Canton Citizen names 25 fall sports all-stars
By
Canton Citizen
Boys Co-MVP
Alec Ragusa (Football)
A tape of the Thanksgiving Day game is all you need to know about senior Alec Ragusa, an All-Hockomock selection as a linebacker. A two-way force for the Bulldogs all season long, Ragusa dominated the game on both sides of the ball, gaining 111 yards and rushing for a score while also leading the team in tackles and returning a fumble 45 yards to the end zone in a blowout win over the rival Stoughton Black Knights. "Alec played the best in the biggest games," noted head coach Dave Bohane. "He lived to compete. When we needed a big tackle, there was Alec. He had the knack of breaking the block and making the tackle and not taking himself out of the game. Alec provided physical strength, and power in his play."
Boys Co-MVP
Jack Goyetch (Golf)
A senior captain, Goyetch capped off a memorable high school golf career with a historic final season, guiding the Bulldogs to a 13-1 record and a first-ever Davenport Division title while collecting league MVP honors. A three-time All-Hockomock selection, Goyetch was consistently the Bulldogs' top golfer, earning match medalist honors six times on the season, including two rounds where he shot under par. He also finished among the top 10 at the Division 2 south tournament and was the only CHS golfer to compete in the state finals. "Jack is a great golfer and has a great golf mentality," said head coach Mike Barucci. "He is a great leader and a great role model for everyone on the team."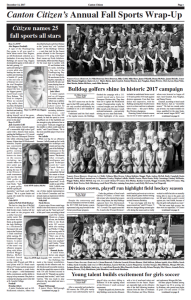 Girls MVP
Andrea McNeil (Field Hockey)
The last in a long line of McNeil women to suit up for the CHS field hockey team, Andrea left her own mark on the program with a stellar four-year varsity career. Her last season was her finest, as she guided the lady Bulldogs to a Hockomock Davenport title and a trip to the Division 1 south semifinal while earning All-Hockomock League honors. A senior captain and one of the team's top offensive weapons along with fellow forward Maggie Malloy, McNeil finished fourth in the league in scoring with 20 goals and fifth in total points with 29. Head coach Chrissy O'Connor said she possessed all of the attributes a coach looks for in a player — solid fundamental skills, commitment, and the ability to step up in key moments. She plans to continue her playing career in the fall at St. Anselm College.
Football
Brendan Albert
A junior linebacker and an All-Hockomock selection, Albert was described by head coach Dave Bohane as the "poster boy" and "spiritual leader" of the Bulldogs' defense — a unit that tied for the fewest points allowed in the Davenport Division (173) along with Super Bowl runner-up North Attleboro. Individually, Albert tied Alec Ragusa for the team lead in tackles with 85 and finished with six sacks, including a big one in the Thanksgiving Day win over Stoughton. He was known for his big hits, especially on kickoffs. He also saw some playing time on offense as a runner and a blocker.
Jude Albert
A senior captain and an all-league honorable mention, Albert was so athletic that during his high school career he played linebacker, secondary, defensive lineman, and offensive lineman. At six feet, 205 pounds, he had the speed to cover a halfback out of the backfield and the strength to play defensive line as a nose guard. "Jude just clogged up the middle so others could make the tackle," said Coach Bohane. "He is the most unselfish player I have ever coached."
Pat LaBelle
While not big for an offensive lineman, LaBelle made up for it with his technique and smarts and was a big part of the Bulldogs' dominance in the running game this season. "Pat showed what strength, intelligence and good technique could do," said Coach Bohane. "He was not outmatched. He had the smarts to know how to get leverage and consistently played well." A role model on and off the field, LaBelle was recently chosen as one of three student representatives to the School Committee and has already made an impression with his honest, observant comments.
Volleyball
Nicole Brown
A junior setter, Brown made huge strides in her first season as a varsity starter and was the "heart and soul" of this year's team, according to head coach Pat Cawley. Chosen as a league all-star, she finished fifth in the Hock with 397 assists while also racking up 55 kills, 113 digs, and serving with 94 percent accuracy. "She's one of the hardest workers I have ever coached," said Cawley. "Great attitude and a great leader."
Hannah Jerrier
A senior hitter, Jerrier only played two seasons for the Bulldogs but made a big impact nonetheless, especially on the offensive end. An All-Hockomock honorable mention, she led the squad this season in kills with 156 and finished second in blocks with 34. "Hannah was another extremely hard worker," said Coach Cawley. "She was ready to play wherever she was asked and was a good leader."
Megan McDonough
A junior libero, McDonough was the Bulldogs' defensive anchor and showed consistent and steady improvement in her first year as a varsity player. She finished the season with 208 digs — good for second in the Hockomock League — and was the top serve receiver on the team with 393 receptions and very few errors. She was also a strong server (93 percent) and finished second on the team with 25 aces.
Boys Soccer
Griffin Roach
A junior midfielder and an exceptional all-around talent, Roach cemented his status as one of the top soccer players in the Hock with an MVP-caliber season. Combining tremendous soccer instincts with a legendary work ethic, Roach left his imprint on every match while collecting 16 points — the fifth-best mark in the Hockomock League. He was also the team's most decorated player, earning All-Hockomock and Patriot Ledger All-Scholastic honors while becoming just the second underclassman in program history to receive All-State recognition.
Paul Corcoran
A two-time All-Hockomock selection and still just a junior, Corcoran picked up where he left off after his breakout sophomore campaign, setting new career highs with 15 goals and eight assists while leading the Bulldogs to a 10-4-4 overall record. A naturally gifted scorer, Corcoran led the entire Hockomock League in both goals and total points (23) and finished with a pair of hat tricks. He is currently tied for 13th on the program's all-time scoring leaderboard and will look to add to his totals when he returns to lead the team next season as one of three captains.
John Agnitti
A senior captain, Agnitti was the defensive anchor of a stingy Bulldog backfield that allowed only 1.36 goals per game and combined for five shutouts. Head coach Danny Erickson said he was "unequivocally the unsung hero" of this year's team. "He had as much of an impact on our season as any single player," said Erickson. "He took on a real leadership role and was looked upon by our teammates as the guy in charge of our back four."
Girls Soccer
Sarah Connolly
A talented two-way player, Connolly wrapped up a stellar high school soccer career with another excellent season for the lady Bulldogs, anchoring the backfield while also chipping in offensively as a playmaker and occasional scorer. Between her strong leg and passing ability, she proved to be a unique weapon for Canton and was widely regarded as one of the top talents in the league. "Sarah loves the game and always works to be the best she can be," said head coach Kate Howarth of the Division 1 Lafeyette College commit. "She's a very talented player."
Riley Duserick
A four-year starter and four-time All-Hockomock selection, Duserick was an anchor in the midfield for a team that won 10 games and qualified for the south sectional playoffs. Solid in every facet of the game, she finished the season with three goals and five assists and helped set a tone of high expectations for the younger players. "Riley has raw talent with an eye for the game," said Coach Howarth. "She is always working hard and hungry to win."
Olivia Rodman
A talented player with an advanced scorer's touch, Rodman burst onto the high school soccer scene as a freshman and delivered one of the most exciting rookie seasons in recent memory, earning all-league honors while leading the Bulldogs with 14 goals and seven assists. "Olivia came in this year in shape and ready to work," said Coach Howarth. "She has a great ability to score goals and finish half chances. She keeps us in games and works in tandem with Elisa Diletizia to score goals."
Elisa Diletizia
Another promising freshman forward, Diletizia teamed with Rodman to form a formidable one-two punch up top. She finished the season with nine goals — second most on the team — and assisted on three others. "She also came in fit and ready to contribute," Coach Howarth said of Diletizia. "Olivia and Elisa were like two peas in a pod. They work very well together. Elisa has a great shot from distance that most goalies can't stop."
Golf
Joey Vaughan
A senior captain and an All-Hockomock selection, Vaughan narrowly edged out teammate Jack Goyetch to finish with the lowest scoring average on the team with a 38.29 over nine holes. He was a four-time match medalist and he helped lead the Bulldogs to a second consecutive Hockomock Championship with a team-best performance at the league meet. "Joey works hard every day, either at practice or in a match," said head coach Mike Barucci. "He gives 100 percent every time. He does not let a bad shot or a bad hole turn into a bad round."
Danny Powers
A senior captain and a three-year varsity starter, Powers earned his second consecutive league all-star nod with another outstanding season. He was match medalist on two occasions and finished third on the team with a scoring average of 39.33. "Danny is a great golfer," said Coach Barucci. "He hits the ball far and has a great short game. He also has a strong mental game and is able to bounce back after a bad shot or a bad hole. He was also a captain and a great role model to the younger kids on the team."
Field Hockey
Maggie Malloy
A junior forward, Malloy is still relatively new to the program but once again played like a seasoned vet, earning all-league honors for the second year in a row. A gifted athlete with a knack for scoring, she finished tops in the league with 27 goals — more than a goal per game — and placed third in total points with 35. She now has 43 goals through two seasons and will be looked upon to shoulder a similarly big scoring load next season, especially with fellow forward Andrea McNeil departing.
Riley Brown
A senior, Brown stepped into the starting goalie spot this season after serving as a backup in previous years and proved to be a more than capable replacement, finishing second in the Hockomock League with a 1.09 goals against average. An All-Hockomock selection, Brown also collected five shutouts and came up big in countless key moments throughout the season, including in a regular season showdown with eventual D1 south champion King Philip.
Emily Campbell
A senior and a two-time All-Hockomock selection, Campbell once again displayed her versatility players as she split time between the backfield and midfield and excelled in both roles. An excellent defender, Campbell also chipped in offensively with a few goals and assists. In addition to garnering a league all-star nod, she was honored with a selection to the HockomockSports.com First Team.
Boys Cross Country
Colin Messinger
A senior captain, Messinger was the Bulldogs' most consistent performer and top overall runner in 2017. He consistently posted times in the mid 17:00's and helped guide the squad to two dual meet victories. He also finished the season on a high note, placing 15th overall at the EMass Division 4 Championships with a time of 17:09—a new personal best for Messinger on that course.
Jack Healey
Also a senior captain, Healey was the team's No. 2 runner and finished just behind Messinger in most meets. The two classmates pushed one another to get better with every race, and the extra motivation paid off for both of them. "This is the first time in six years we've had more than one runner who could [reach their times]," said head coach David Hiltz. "So much of the success of the team came from those two, and without them, the season would not have been as successful."
Girls Cross Country
Jena Moyle
A newcomer to cross country as a senior, Moyle made an instant impact as the team's top runner this season. According to Coach Hiltz, although she only competed in cross country for a year, "She did an incredible job with it. She made the adjustment well and fit right in with the rest of the team and in her role."
Chloe Pennachio
A junior, Pennacchio was a consistent source of points and always finished among the top three runners on the team. "She works hard every day, comes to practice and meets ready to compete, and leads by example," said Hiltz. "We are excited to have her back again next year and are looking forward to what she can accomplish in her senior year."
See this week's Canton Citizen to read season recaps for all of Canton High's fall sports teams. Subscribe today at www.thecantoncitizen.com/subscribe.
Short URL: http://www.thecantoncitizen.com/?p=37765

Posted by
Canton Citizen
on Dec 15 2017. Filed under
Featured Content
. Both comments and pings are currently closed.