Commentary: Digging deeper into crime statistics
By
Guest
By Police Chief Ken Berkowitz
After reading MAC's quick blurb in last week's paper regarding the results of the FBI's 2016 Uniform Crime Report, and in an effort to help MAC and the readers understand why, on its own, it is not a true metric to measure crime in our community, I felt compelled to explain the results.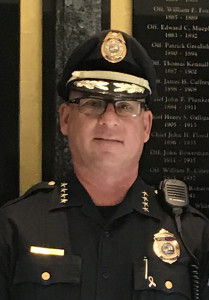 According to the FBI, the UCR program collects statistics on the number of offenses known to law enforcement. In the traditional Summary Reporting System (SRS), there are eight crimes, or Part I offenses: murder and non-negligent homicide, rape, robbery, aggravated assault, burglary, motor vehicle theft, larceny-theft, and arson. These offenses were chosen because they are serious crimes, they occur with regularity in all areas of the country, and they are likely to be reported to police.
The statistics are compared and then ranked by the number of crimes and the number of residents. The UCR does not take into consideration any other variables, such as the number of people who commute to a jurisdiction for work each day, which in our case numbers in the thousands. For a town our size that has an overall low frequency of crimes that are committed, the data can be easily skewed by either a singular event or as little as one additional occurrence of that particular crime than experienced the previous year. For instance, if we had four rapes this year, it may show up as a 50 percent increase because we only had two last year. If we had a large fight or work strike which resulted in five or six people being arrested for shoving someone (assault) yet only had 10 to 12 arrested for the crime of assault in the entire previous year, this one incident would show a 50 percent increase in assaults.
In the FBI's own words, these are the crimes that are likely to be reported. There is no mandatory reporting policy and some towns choose not to report or unintentionally miscategorize the number or type of crime. Some examples of this would be an indecent assault charge rather than a rape charge or a car fire rather than an arson. In the FBI's 2016 report, it shows the Boston Police Department reported no arsons for the entire year. As I am aware that the Boston Fire Department, rather than the Boston Police Department, investigates arson, I am sure this is a reason that the number zero was attributed to that crime. In our own department, we had 12 stolen cars in 2016. When we looked into this high number, we realized that we only had four that were actually stolen. The others were repossessions, misunderstandings on who was authorized to use a vehicle, lost vehicles in a parking lot, or a call that was entered incorrectly. We report 100 percent of our crimes and I am in favor of this. Additionally, I am in favor of the new nationwide initiative to report police use of force incidents on the survey. I feel both should be mandatory for law enforcement organizations. If we don't have accurate statistics and data, how will we truly know the extent of the problem or, conversely, if one even actually exists?
Some facts to also keep in mind. According to the FBI's 2016 report, Canton had four armed robberies, four rapes, 27 larcenies (2.1 per month), and one arson. We can all agree that one of any of these crimes is too many. However, we must come to the realization that no jurisdictions are "crime free." In 2016, we had a string of assaults and robberies at the Village Shoppes. Although two people were responsible for several of them and were arrested expeditiously, this still inflated our numbers in this category from the year before. The town of Canton has not experienced a single homicide since 1996.
Although our goal is always to prevent crime from occurring in our community, we know that in this day and age, it is not realistic or attainable. As many of you have commented to me, our marked police cars have an omnipresence throughout town. Our initial response to crimes is swift, strategic, and professional. When it comes to solving crimes, our investigative follow up is unparalleled and as a result, we enjoy a very high clearance rate. This year alone, we have solved the only bank robbery we had, a home invasion, two armed robberies, and several unarmed robberies.
Obviously, times have changed and crimes that were once confined to urban areas have made their way out to Canton. One cannot forget that due to our large social media and press footprint, you may oftentimes hear about crimes that you may not have heard about in the past. We do this for several reasons: to include enlisting our community partners to help us solve crimes, as an awareness tool, so that people can take reasonable precautions to avoid becoming a victim (e.g. locking their cars), and finally, to give our constituents an accurate and detailed snapshot of crime in our community. Every resident and business owner should know the commitment, professionalism and dedication (CPD) of this police department to its mission and to our residents and business owners is unmatched. I hope this letter will assist MAC and others and paint a more accurate picture of what a safe town we all live in.
Short URL: http://www.thecantoncitizen.com/?p=37457

Posted by
Guest
on Nov 3 2017. Filed under
Featured Content
,
Opinion
. Both comments and pings are currently closed.