School officials moving full speed ahead with facilities, grade reorganization plan
By
Mike Berger
Only four weeks removed from their historic vote to reconfigure and renovate the Canton school system, members of the School Committee have already begun making the rounds with town officials and various community stakeholders to discuss and explain their long-term plan for the district.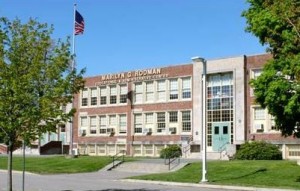 To date, school officials have met with a number of school CAPTs and have held one public forum — last Wednesday in the CHS cafeteria — with a second forum planned for tonight at 7 p.m. in the same venue. In addition, School Committee members have met with selectmen and Finance Director Jim Murgia and have begun to examine the tax implications of their district-wide reorganization plan.
Identified as "option 5B.1" by consulting firm Dore & Whittier — authors of the school facilities master plan — the proposed reorganization breaks down as follows: pre-kindergarten through grade 4 students at each of the elementary schools; grades 5-7 at the Galvin Middle School; grade 8 students in a separate "academy" at the Rodman building; and grades 9-12 at CHS. Additionally, the central administrative offices would move out of the Rodman and into the Galvin.
Formally endorsed by the School Committee in a 5-0 vote early last month, the reorganization plan would require extensive renovations to the Galvin and Rodman, along with new modular classrooms at the elementary schools, at an estimated cost of $214 million. A substantial portion of that figure, however — between 40 and 45 percent—would potentially be eligible for a reimbursement from the Mass. School Building Authority.
Still, even with a maximum reimbursement from the MSBA, Murgia said the only viable option to afford a $100-plus million project would be through a debt-exclusion override, which would require town meeting approval and a subsequent ballot vote.
"If the town were to borrow $100 million over 20 years, I roughly estimated the debt service to be $7 million per year," said Murgia. "With the levy currently about $70 million, $7 million in excluded debt would increase our tax bills about 10 percent. For the average homeowner who pays $6,000 in annual real estate taxes, that $100 million debt would increase the tax bill by $600 per year for 20 years."
Currently the town is paying roughly $1.6 million in debt service costs for a variety of completed projects, including renovations to CHS and the Canton Public Library and projects at the Luce and Hansen schools. Murgia said the $1.6 million represents an increase of approximately 2 percent per property tax bill.
By next year, Murgia said the town's debt service obligations will drop to $1.3 million as a couple of smaller projects are paid off. The Luce School project is slated to come off the books in 2021 with the high school and library bonds scheduled to be paid off by 2024. The Hansen override, which financed a two-story addition at the school, has several more years left after being approved by voters in 2015.
In terms of next steps for the School Department, committee members are expected to present the entire Dore & Whittier report to the FinCom by October 17 …
See this week's Canton Citizen to read the full version of this story. Not a subscriber? Click here to order your subscription today (also available in digital form).
Special 30th Anniversary Promotion for new in-town subscribers: $20 for 52 issues. (Offer valid until 10/15/17)
Short URL: http://www.thecantoncitizen.com/?p=37242

Posted by
Mike Berger
on Oct 6 2017. Filed under
News
,
Schools
. Both comments and pings are currently closed.