MassDOT announces new plans for South Coast Rail
By
Canton Citizen
Canton to get a reprieve if interim route adopted
On March 15, the Massachusetts Department of Transportation announced that it would be pursuing a new phased approach to the South Coast Rail project aimed at bringing rail service to the South Coast on a shorter timeline.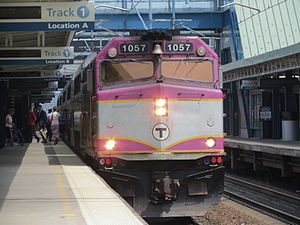 Under the latest proposal, which is outlined in a Notice of Project Change (NPC) filed by MassDOT, the state would adopt an interim service to New Bedford and Fall River using the existing Middleborough/Lakeville Commuter Rail Line. In the meantime, work would proceed on the design, permitting, and financing of the final phase project using the Stoughton Electric Route, which passes through Canton Center.
According to MassDOT, while the Stoughton route remains the choice of the federal and state environmental process, a phased implementation will permit the MBTA to serve the region sooner while continuing to work with the agencies and the public to design and build the full service.
During the last round of public meetings on the South Coast Rail project held in September 2016, Canton officials had expressed their concern with the Stoughton route, which would bring up to 40 new trains per day through Canton and require the reconstruction of the Canton Center station. The latest proposal, if approved, would likely delay the development of the Stoughton alternative for several years while the Middleborough/Lakeville route is used in the interim.
According to MassDOT, the ride from New Bedford and Fall River to South Station will be longer through Middleborough/Lakeville compared to the Stoughton route. However, the agency "heard the sentiments expressed in the last round of public meetings — to do something now to provide a transit option to residents of the region, restoring service last provided to the South Coast in 1959."
The NPC is required since the Middleborough option was not previously evaluated by the Massachusetts Environmental Policy Act (MEPA) office, and MassDOT did not propose a phased approach. The NPC discusses aspects of the project that are likely to require additional analysis in a Supplemental Environmental Impact Report (SEIR). MassDOT is also working with the U.S. Army Corps of Engineers to define the federal process.
MassDOT will host a public meeting on the NPC during the comment period. More details will be announced on the South Coast Rail website at massdot.state.ma.us/southcoastrail. A copy of the NPC can be downloaded on the Documents page of the project website.
Comments on the NPC must be sent by April 21 to Secretary Matthew A. Beaton, EOEEA, Attn.: MEPA Office (Purvi Patel), 100 Cambridge St., Suite 900, Boston, MA 02114, or via email to purvi.patel@state.ma.us.
Short URL: http://www.thecantoncitizen.com/?p=35864

Posted by
Canton Citizen
on Mar 31 2017. Filed under
News
. Both comments and pings are currently closed.