Memorable volleyball season ends in D2 sectional finals
By
Jay Turner
It just wasn't in the cards.
For CHS volleyball coach Pat Cawley and her talented Bulldogs squad, that was the harsh reality after Saturday night's season-ending, 3-0 loss to top-seeded Westboro in the Division 2 central sectional finals.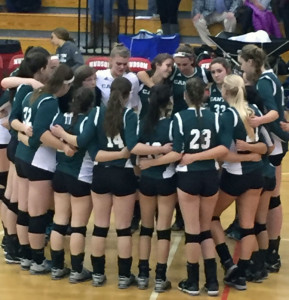 Playing in their third sectional title game in four seasons and full of confidence after back-to-back shutout wins over No. 6 Milton and No. 2 Medway, the Canton girls had certainly looked the part of a contender and had gone to Hudson High School fully intending to return with the championship trophy.
Yet the Rangers, who also defeated Canton for the 2013 sectional crown, proved to be too tough yet again as they out-hit and out-executed the Bulldogs en route to a 25-17, 25-18, 25-21 win.
"Not a good night for Canton volleyball," admitted Cawley after the match.
While the Bulldogs started strong in the opening set, scoring the first four points and eventually leading 12-7, the Rangers regrouped after a timeout and ended on an 18-5 run. Westboro then carried the momentum into the second set and built a big lead behind the one-two punch of middle hitter Gianna Scioletti and setter Emma Smallcomb.
Cawley said the duo had Canton "reeling the entire night," including in a closely contested third set that ended with a Scioletti kill.
"Whatever adjustments we made they immediately recognized," said Cawley. "We never got our offense going and our defense had trouble reacting."
Top performers for Canton in the match included the three senior captains: Elizabeth Hamilton (7 kills, 10 digs), Olivia Devoe, and Rye Verille (5 kills). Casey Shea and Emma Murphy chipped in with key blocks, and setter Nicole Poole contributed with 16 assists, three kills and six digs.
Although disappointed by the way that it ended, Cawley said it was still a great year led by a "great group of hardworking, talented players." She also didn't want the loss to overshadow the team's many accomplishments, including their ninth consecutive Hockomock title and two terrific playoff victories against strong opponents.
Arguably the most impressive win of the season came just last week, when the Bulldogs defeated second-seeded Medway in the sectional semifinals 25-19, 25-19, 25-20.
"We played an excellent all-around match," said Cawley of the Medway win. "We were in control the entire way, although Medway made runs to keep it close. It was a great team effort."
The Canton defense was outstanding in the match, led by Devoe and Hamilton, who combined for 32 digs. Hamilton also paced the team offensively with 15 kills while Verille and Sarah Reissfelder combined for 11 more. Poole also played great in the win, tallying 22 assists.
Overall, the Bulldogs finished the season at 17-5, including a 2-1 mark in the playoffs. They were once again the class of the Hockomock as they lost just one league match and went deeper into the playoffs than any other league school.
Short URL: http://www.thecantoncitizen.com/?p=31568
Posted by
Jay Turner
on Nov 20 2015. Filed under
High School
,
Sports
. Both comments and pings are currently closed.