Globe reporters, co-authors to visit Canton Public Library
By
Canton Citizen
On Tuesday, February 3, at 7 p.m., co-authors and Boston Globe reporters Scott Helman and Jenna Russell will be appearing at the Canton Public Library to discuss and answer questions about their book, Long Mile Home: Boston Under Attack, the City's Courageous Recovery, and the Epic Hunt for Justice.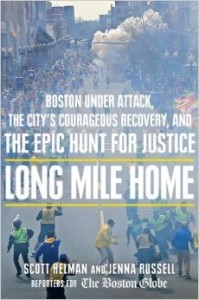 The definitive book on the Boston Marathon bombing and subsequent manhunt for the Tsarnaev brothers, Long Mile Home provides a riveting and intimately detailed account of the events that shook the city and the nation. More than collecting and retelling facts, Helman and Russell humanize their work by featuring five individuals whose personal stories serve to link the various groups — from victims to heroes, from runners to spectators — who were affected once the bombs went off. The Boston Marathon bombing was the largest crime scene in Boston's history, leading to an epic manhunt and a city on lockdown. But the tragedy revealed the city's resilience and bravery.
In the tradition of 102 Minutes and Columbine, Long Mile Home tells the gripping story of the tragic, surreal, and ultimately inspiring week of April 15, 2013: the preparations of the bombers; the glory of the race; the extraordinary emergency response to the explosions; the massive deployment of city, state, and federal law enforcement personnel; and the nation's and the world's emotional and humanitarian response before, during, and after the apprehension of the suspects.
The authors, both journalists at the Boston Globe, are backed by that paper's deep, relentless, and widely praised coverage of the event. With an unprecedented level of detail and insight, the book will offer revelations, insights, and powerful stories of heroism and humanity. Long Mile Home also highlights the bravery, resourcefulness, and resiliency of the Boston community at its best on its worst day.
Helman is a staff writer for the Boston Globe Magazine and co-author of The Real Romney. Russell was one of the reporters at the forefront of the Globe's coverage of the bombings and is the co-author of the New York Times bestseller Last Lion. Both authors live in Boston.
To read reviews or for more information about Long Mile Home, visit www.scotthelman.com.
This event is free and open to the public. An author signing will follow, and books will be available for purchase through Haley Booksellers. Reservations are not necessary, but guests are asked to come early. Refreshments will be served. For more information, contact Carolyn Elkort, community outreach librarian, at 781-821-5027 ext. 126.
Short URL: http://www.thecantoncitizen.com/?p=28371

Posted by
Canton Citizen
on Jan 29 2015. Filed under
Uncategorized
. Both comments and pings are currently closed.