FPUU to show premiere of 'Two Who Dared'
By
Canton Citizen
First Parish Unitarian Universalist in Canton, located at 1508 Washington Street, will host the premiere of Two Who Dared: The Sharps' War on April 14 in the chapel.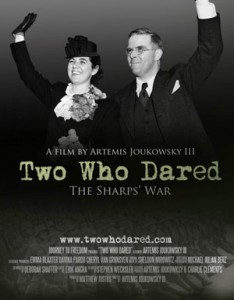 Directed by Artemis Joukowski, Two Who Dared tells the remarkable story of Waitstill and Martha Sharp, an American minister and his wife who boldly committed to a life-threatening mission in Europe to help save imperiled Jews and refugees at the onset of World War II.
After 17 ministers declined the Unitarian Association's request for relief volunteers in Europe, Waitstill and Martha committed to the dangerous undertaking. They left their two young children in Wellesley, Massachusetts and traveled to Czechoslovakia at the onset of the war. In order to enable the clandestine transportation of refugees, they combatted political and social blockades, broke laws in an effort to get imperiled individuals exit visas, and laundered money on the black market.
Over the course of two missions — in Prague (1939) and in Southern France (1940) — the Sharps and their underground played a vital role in saving thousands from persecution. In 2006, the Sharps were recognized by the state of Israel as "Righteous Among the Nations" at Yad Vashem for risking their lives to save Jews and dissidents during the Holocaust. They are two of only three Americans to be honored.
Through the inspiring true story of Waitstill and Martha Sharp, Two Who Dared reveals a timeless lesson of personal sacrifice and courage that will inspire future generations.
The film is scheduled to premiere in over 80 venues around the world — including churches, synagogues, theaters, and even private homes — throughout the spring in celebration of Yom HaShoah, Holocaust Remembrance Day, April 8.
The Canton screening will start at 12:45 p.m. on April 14. Doors will open at 12:30. Admission is free, but a $5 donation is suggested to cover the cost of renting the screening rights.
For more information about the film, go to www.twowhodared.com.
Short URL: http://www.thecantoncitizen.com/?p=19887

Posted by
Canton Citizen
on Apr 4 2013. Filed under
News
. Both comments and pings are currently closed.