As You Like It: Wedding Girl
By
Joan Florek Schottenfeld
Our back yard has seen so much — troops of kids digging in our sandbox, hanging from monkey bars, sliding down the slide and swinging from swings.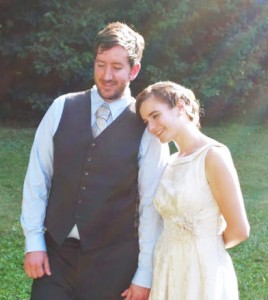 Games of hide and seek, tag, and duck, duck, goose. Softball and soccer rolling through the grass, excited shrieks echoing in the sky. We've hunted for snakes and watched caterpillars creeping along. We planted a garden and pulled up our first carrots. When the kids got older, we set up a badminton net, swung croquet mallets, and spiked volleyballs. We've watched the birds that come in an unending stream to our feeders, the deer that creep into our yard in the early morning, and have even seen wild turkeys on Thanksgiving Day. We've spotted a fox race across the yard, raccoon babies in trees, and a groundhog that knocked itself out on a log trying to escape.
We've barbecued on Memorial Day, July 4th, and Labor Day with friends and celebrated high school graduations. The more I write, the more I remember. So when Lisa and Matt asked to be married in our backyard it seemed like a natural extension of our lives. We would invite just the immediate families and celebrate the beginning of Lisa and Matt's life as a married couple.
We only had a couple of months to plan, but it didn't seem that there was that much to do since Lisa and Matt had done most of the groundwork. But as the date approached, it suddenly became a race. Steve and the kids worked outside while I attacked the inside. There were menus to discuss, flowers to buy, games to plan for Matt's nieces. And of course we spent weeks praying for good weather since our plan was not only to have the "formal" ceremony outside, but then to change into comfortable clothing so that we could play in the yard afterwards.
It reminded me of our wedding. Shatz and I were married in a penthouse room that was connected to a large roof deck with an amazing view. We wanted to be married on the deck surrounded by our parents and then invite everyone out for cocktails and hors d'oeuvres before dinner and dancing inside. We prayed for sun and got it in spades. It was 95 degrees and humid. Though we did get married outside, our guests quickly ran off to the air conditioned hall inside. I still remember the musician we hired playing the keyboard on the deck, looking rather forlorn playing for himself.
Last week Lisa and her friend Laurel made beautiful, huge paper dahlias to decorate the yard and porch. We put up tiki torches, giving the yard an exotic feel, set up seats, volleyball and horseshoes. And yes, we got sun … plus 90 degree hot, humid skies. Déjà vu. So we cranked up the air conditioning, set out fans, and bought tubs of iced drinks to keep everyone cool.
Steve and I had met Matt's father, sister and nieces, but this was the first time we would meet the rest of his clan. We were strangers suddenly expected to become family, and at first it was awkward. Thankfully, Matt's nieces, Izzie (Isabelle), 7, and Sydney, 5, were the perfect ice breakers. Gorgeous, bright and fun, they were the bubbles in a glass of champagne. After some getting-to-know-you conversation, Lisa turned to Matt and said, "Okay, let's go get married!" And so they did.
Steve and Matt's dad, Jerry, officiated at the ceremony. Steve had applied for a one-day license (he actually needed a character reference!) from the commonwealth of Massachusetts and received a very fancy letter with a gold star making it all official. Lisa and Matt had created their own wedding script, which included their thoughts about marriage and their vows. The families sat in a semicircle with Izzy and Sydney as the official bubble blowers. Throughout the ceremony, if Lisa would begin to cry, she would stop everything and say to them, "We need more bubbles guys!"
I read a poem that I had written, and Mariel recited "Happiness" from You're a Good Man Charlie Brown, a record that we had worn down through all our years of listening. We stood there in the heat, torches burning, birds chattering, an occasional squirrel looking over at us curiously, the big, bright dahlias coloring the sky, sniffing and smiling through our sniffles. I held my script and told myself not to cry — but it was hopeless. At least I managed to get through my poem. And then suddenly Steve pronounced those magic words, "By the power vested in me …," they broke their wine glasses, and I was the mother of a married woman.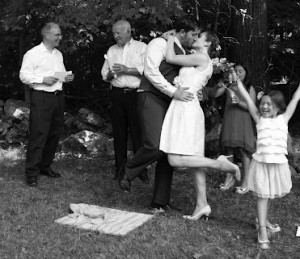 How did you suddenly become a wedding girl?
Standing there in your cream/dream dress
Next to your sweet guy … his girl now,
Even though you've always been your own girl,
You were mine once.
My baby girl,
My bright-eyes girl.
They say that no matter how old your children become
You never see them as adults,
Always babies.
I've never found that to be true.
Whenever I look at your lovely face
I see a woman who finds her own roads.
It takes effort to see you as my once baby
Searching for mommy's hand.
And that's how it should be
As you marry your beloved
Eyes bright open.
Take his hand,
Say your vows
And wedding-girl
Become a married-girl
Eyes wide toward your future.
Short URL: http://www.thecantoncitizen.com/?p=15260

Posted by
Joan Florek Schottenfeld
on Jul 25 2012. Filed under
As You Like It
,
Featured Content
,
Opinion
. Both comments and pings are currently closed.