Man About Canton: Community Preservation Act
By
Joe DeFelice
DID YOU KNOW …
The Community Preservation Act (CPA) was passed by the Massachusetts State Legislature in 2000 to help communities better manage development through the use of local dedicated funds that receive annual matching funds from the state. It is estimated that, if the measure is passed, Canton will generate over $450,000 each year and will receive additional funds from the state for all CPA projects.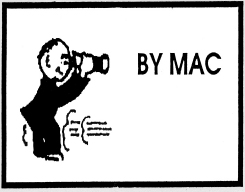 Passage of the CPA question, which is on this year's April 3 ballot, would result in a 1 percent add-on to your tax bill, a sum that will be partially matched by state funds. Although a lot of good things can be done with that CPA money, like open space, new ball fields, playgrounds, walking trails, and historical preservation projects, the fact remains that CPA is an additional tax. The average household in Canton would pay about $42 more per year in taxes. So, it's up to you, the voters. Will it be yes or no? The selectmen voted 4-1 to oppose the CPA measure with Victor Del Vecchio being the lone dissenter.
The Canton High Alumni Association's fourth annual Trivia Night with Gary Titus will be held on Friday, April 20, at 7 p.m. at the Canton Town Club. Admission is $10. There will be cash prizes for the winning team and other great prizes, including a raffle for Red Sox box seats. And since last year's trivia night was a sellout, MAC recommends you call Tula at 781-341-0935 to reserve your place and join CHS alumni for a fun evening.
Dick Lane has retired from his Thursday and Friday night cooking at the Canton American Legion Post. The new cook will be Charlie Walsh, with a new menu and a new name, "The Legion Chuck Wagon."
Wendy's has dethroned Burger King as the country's second biggest hamburger chain. Wendy's edged out Burger King in U.S. sales volume for the first time last year since Wendy's was founded in 1969.
The Canton Historical Society will hold its annual meeting on Sunday, April 15, at 1 p.m. at 1400 Washington Street. Guest speaker will be Gary Hylander, Ph.D., a professor of history at Stonehill College. He will talk about the assassination of President Abraham Lincoln and the role Mary Surratt played in this event.
The average pay for a Boston public school teacher is $81,633. They are among the highest paid in the nation. They also work one of the shortest work weeks, and they are looking for a 10.3 percent raise in their contract negotiations. In a recent editorial in the Boston Phoenix, on March 23, it was stated, "The single biggest impediment to change is the Boston Teachers Union. Simply put, the BTU is about political power, not education."
The Honda Accord ranks number one on the list of the most stolen and recovered vehicles in 2011, according to Canton-based LoJack Company.
AARP members can get a free doughnut when they purchase a large or extra large hot coffee at Dunkin' Donuts. Valid AARP membership card must be shown.
Selectmen recently voted 3-1-1 in support of the local meals tax increase. John Connolly, Sal Salvatori and Victor Del Vecchio voted for the measure. Bob Burr voted against it, and Avril Elkort abstained. Last year, the proposal ended in a tie vote at annual town meeting.
Tucker Donahoe of Canton recently completed his senior season at Middlebury College. The 6'4", 206-pound hockey player was signed by the Reading Royals of the EGHL, which is affiliated with the Boston Bruins. The defenseman captained Middlebury to the New England Small College Athletic Conference finals before being defeated by Amherst.
The Canton K of C building at 500 Pleasant Street, which is up for sale, has been assessed for $502,000, according to the Assessor's Office.
MAC became a grandfather for the fifth time when his daughter, Michelle, and her husband, Bob, welcomed an 8 pound, 6 ounce baby girl with a very unique name, Raeanna Jodee Phinney. Raeanna, who was born on Tuesday, March 20, was named after her maternal great-grandmothers, Rae Barrett and Anna DeFelice, and her maternal grandparents, Joe and DeeDee DeFelice.
You're never too old, never too bad, never too late, and never too sick to start from scratch once again.
This is all for now folks. See you next week.
Joe DeFelice can be reached at manaboutcanton@aol.com.
Short URL: http://www.thecantoncitizen.com/?p=12528

Posted by
Joe DeFelice
on Mar 28 2012. Filed under
Man About Canton
,
Opinion
.