Outside the Whale: America's 2013 Tsunami
By
Tanya Willow
I have to turn off the radio because I can't listen to another economic failure due to unregulated greed. Who in their right mind thought the so-called "Super Committee" could ever come up with a workable federal budget? All the factors that froze Congress during the debt ceiling crisis would follow the bipartisan committee right into the negotiation room.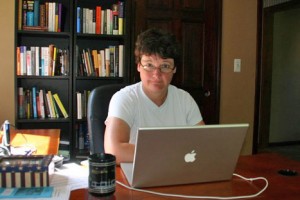 Grover Norquist had his Republicans — and I do mean "his" Republicans — sign a no-new-taxes pact, which means the budget would have to be balanced by downsizing working class people's benefits (Social Security, health care, unemployment, education loans) while continuing with the tax status quo: no tax increases on the super rich. If the Republicans don't do as their boss tells them, Norquist won't use his bundled corporate lobby dollars to fund them and they'll lose their next election.
The destruction of the working class helps no one, yet the relentless march toward it continues. Government needs to spend like a drunken sailor on infrastructure and labor-intense projects to get Americans back to work. Ask Japan, which remains depressed after it attempted to balance its budget when it fell into its crisis in 2003 and consequently remains there. The tsunami didn't help, but bad luck never has mercy on the down and out. Here in the U.S., because of the Super Committee's failure to fulfill an economically suicidal objective, in 2013 the Feds will make $1.2 trillion in automatic cuts from the federal budget, though that includes a half trillion from the Pentagon, which is the Republicans' darling. It will be interesting to see how Norquist's political army navigates that part of the deal. After all, what red-blooded American could possibly be for cuts in military spending?
Of course, the federal problems don't happen "out there" in a vacuum. The U.S. tsunami will come in the form of staggering federal cuts, crippling government regulations and economic safety nets all in the name of economic expansion. States will be less supported by the Feds, so towns will see less money from the states. The government will stop counting the longtime unemployed, but the unemployment reality and jobs with livable wages will remain dire.
We continue to hear increasing numbers of homes lost in auction, driving down values. Wall Street can privatize its gains and pass its losses off to taxpayers — that the treasury can afford — but vast joblessness and home loss is a sign of personal failing, and any government help deemed "socialism," so while executives use tax dollars for bonuses, every day people watch their neighbors lose their homes and their own home values dip, while corporate interests, having robbed the treasury, say now is the time for a balanced budget.
The state's prostituting itself for casino jobs for the connected will hardly help, though maybe for the rest of us, the idea of sitting at the slots and hoping for a little trickle-down theory, especially if the drinks are cheap, might at least mitigate the despair.
This is what the "audacity of hope" looks like when it becomes public policy: Put what's left of your miserable earnings on the roulette table and have the audacity to hope you can double your money and pay the bills. Massachusetts has even set aside a little fund so you can go to a self-help group and talk about how your lack of character is the cause of your destitution and pray to some higher power for help, because god knows the powers that be won't help you.
The Salah Meeting Room at town hall is where sagging revenue plays out locally. This year, Finance Committee member Jim Sims is going after the school contracts, and unlike last year, he's gathering the contracts very early, tediously examining them for all to see in a slide show. (You can see the slides on Canton Community TV's webpage under the FinCom meeting of November 14. Part 2 continues at the FinCom on December 8.) By the time the slide show stops, the teachers' unions will be the cause for the budget crisis in Canton — a theme that will echo throughout the state.
This isn't to say that Finance Committee member Pat Johnson is wrong when she said last year that the teacher steps and lanes (a fancy way to increase teacher pay fast) were simply unsustainable. And it could be reasonably argued that 55 — the age of an executive leader's prime — is way too young to start collecting a pension. Pensions were never meant to be collected for more years than the person worked. But unions didn't cause this mess any more than Social Security caused the current federal crisis, but I suspect they both will pay a disproportionate share when it comes to closing the fiscal gap.
Nobody will ever put up a slide show on the real economic cost of federal, state and local subsidies and grants and tax breaks to large businesses. Whether it be the makers of skin or tacos, each town's Economic Development Committee is delighted to have a business take up space in a vacant industrial building. But local real-estate tax cuts, combined with state "incentives" and in some cases even federal dollars, is so convoluted that it obfuscates the real cost to taxpayers.
As sure as taxes on us, the anger in the year to come and in 2013 will be on "entitlement programs" — a brilliant renaming and degenerative term for Social Security and federal insurances workers have paid into their entire lives — and on municipal unions.
Term limits was a primitive attempt to overthrow Congress with puppet politicians, but it's no longer necessary. That's why you never hear about it anymore. Now corporations can throw any amount of money they want at campaigns, bundling their dollars for common objectives where they will package politicians like products, jettisoning incumbents at will. Members of Congress will go from looking like Walter Cronkite to Robin Meade. Models and actors who can't get work in films or Broadway will not only have television news as an option, but a gig in Congress.
This is the America we are rapidly moving toward, and by 2016 the system will be perfected and the army of the oligarchs cemented in place.
Short URL: http://www.thecantoncitizen.com/?p=10180

Posted by
Tanya Willow
on Dec 14 2011. Filed under
Featured Content
,
Opinion
,
Outside the Whale
. Both comments and pings are currently closed.