Outside the Whale: What's in the Name?
By
Tanya Willow
This column's name, "Outside the Whale," is a play on George Orwell's 1940 essay, "Inside the Whale." Orwell's essay is a book review of Henry Miller's Tropic of Cancer, published in 1931 but banned as pornography from the United States until 1961. (Miller's book was not impossible to get before 1961. My father — who found dealers of books the way addicts find dealers in their contraband — somehow got a copy, though no remaining member of my family knows exactly how.)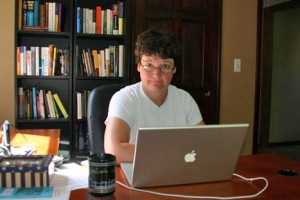 Orwell seems to say that it's not the descriptions of sex that makes the book unusual, but Miller's grasp on the ordinary — how we believe we are masters of our own fate, but at the same time helpless against the larger forces that control our destiny. Orwell lists Hitler and Stalin, Hollywood films, secret prisons, aspirins and political murder as examples of larger forces we can do nothing about. Those same oppressions can easily be substituted for today's equivalent: the War on Terror, Fox News, Guantanamo, Prozac, Gabrielle Giffords, unemployment, and global bankruptcy. Though there is no shortage of sex for Miller's autobiographical character, it is perhaps his character's banal coping with his impotence against these larger forces that most impressed Orwell.
Over the past decade the average American has seen his influence over these powerful forces that ultimately determine the quality of his life deteriorate. Or, perhaps more accurately, the illusion of our influence over these forces is deteriorating. (As this is being written, Orwell's England burns, set to flame by its growing poor and unemployed.) It may be that the "New World Order" that George Bush the First was so eager to usher in will not come into being as easily as its orchestrators had hoped. That is, a world no longer divided geographically or by ideology or ethnicity, but into rulers and ruled, where wages are driven down by the huge populations of China and India and the virtues of deregulation in the name of profit is displayed on a world theater.
In the past, the powerless used compulsive sex and addictive drugs (Miller's theme) as a way of retreat into a smaller, more manageable, numbed awareness. Today we "average" Americans are lawful and largely sexless, so we substitute those age-old escapes by expelling our energies at the gym, with our compulsive use of cell phones and with doctor-approved Prozac.
We have been sold in this country the word "democracy" to symbolize the ordinary American's voice in these larger forces, but the word is becoming increasingly meaningless. As money controls election results, the idea of electing a representative of the people is absurd. The intractable ideologues of the Tea Party are a perfect example, as their opaque funding would be lost if they voted outside their reactionary bloc.
And now, thanks to the Supreme Court's ruling to lift restrictions on corporate campaign spending, these mega-corporations can now buy elections with the language of money. In short, your federal representatives are no longer individuals but a troupe, reading the lines they are given and signing the laws they are told to sign, or they will lose the black limo while new, obedient thespians take their place.
Over time, corporate idolization works its way into the local culture as if it were as natural as the small fish being swallowed by the larger. Our governor looks like an heiress bride on the altar when he stands behind the podium with these corporate CEOs after a tax deal has been made to keep their company in the state (Organogenesis a Canton example). On some level, the governor knows the marriage is for the money and that the divorce will come the moment the arrangement no longer suits the groom's financial purposes, but like the ever-optimistic bride, the governor cheerfully grins anyway as if the pageantry of the moment will stave off any future consequences, with all doubt drowned out by the formal applause of all the powers involved.
At these choreographed events, there isn't the slightest hint that paying these companies to stay in the state isn't a great plan, any possible critic being cast aside through the pronouncement of job creation, their image of corporate savior having been so solidified that dropping tax tithings into their collection basket in exchange for economic salvation is something we now accept on faith.
But shouldn't these corporations — these great benefactors of our state's higher education and road repairs to streets like Route 138 — at least pay the same tax rate as the small businesses off Turnpike Street? Are these highly connected companies overfishing the best and the brightest employees to extinction by not replenishing the waters with their proportionate share of tax dollars? Or is the use of their economic muscle — pitting states and communities against one another to minimize their tax burden; threatening to take jobs and abandon their buildings if they don't get their tax breaks — simply a strategy that makes good business sense to them?
Meanwhile, a small business goes under, unrelenting unemployment drags us into a double-dip recession, municipal workers — the last outpost for a worker to get a decent wage with benefits and which drives private standards — watch their bargaining powers all over the country diminish through state legislation while town budgets shrink and tax burdens shift away from those most able to pay to those least able. In Canton, the frustrations and fears of the teachers' union are unleashed on a stunned and powerless School Committee while Canton-based Dunkin Donuts watches its stock prices soar in its Wall Street debut.
And so, given the impotency of the average person against the forces that shape the quality of our life, Orwell said that in the future we will have no choice but to resign ourselves to the preoccupations of our immediate lives. We will retreat to Jonah's womb of the whale, where "inside the whale," we pretend the external forces of current and storm cannot get to us. It is this absolute resignation that Orwell says is portrayed brilliantly in Miller's formerly banned book.
If only the well financed are represented in government, and if we, the ruled, do not become more conscious of these forces around us, then the fortunes of the everyday man will continue on their current path — watching helplessly as the ghettos of addiction and despair continue expanding to communities previously untouched by resignation, while we begin looking more like the countries where the shoes are made rather than where their world headquarters reside.
Short URL: http://www.thecantoncitizen.com/?p=7961

Posted by
Tanya Willow
on Sep 14 2011. Filed under
Featured Content
,
Opinion
,
Outside the Whale
. Both comments and pings are currently closed.