True Tales from Canton's Past: A Grave Matter
By
George T. Comeau
After my last story, the one that helped rediscover the Boston milestones around town, I headed out to repaint the ancient relics. I had done this before, about five years ago. This time, my brother Jonathan and I dutifully drove to the stones around Canton and took some time painting in the carving and cleaning up the faces. At one point, Jonathan turned to me and asked, "What else can we paint?" The question was simple, almost asking, "What else has been lost that we can rediscover?"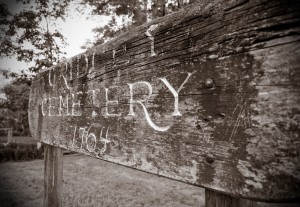 It seems to me that there are plenty of long-neglected sites in Canton that could use a bit of sprucing up. Case in point: what is historically known as the Gridley Graveyard. Few people realize that it exists, but in fact it is closer than you may think. As you drive toward Cobb's Corner, and just after the waterfall at Shepard's Pond, on your left is Kinsley Place, a small street that dips down a hill.
Find a respectable place to park, and on your right is a tiny field hardly bigger than a postage stamp. You will not see any gravestones or markers. A crude sign is erected proclaiming the site as Gridley Cemetery. The weathered sign is slowly deteriorating and time is overtaking this space very slowly. Along the edges of the plot are a lovingly tended grape arbor and plenty of vibrant Hostas. Bearing silent testament to time is a large tree, a maple perhaps, standing at the back corner of this place. Measuring barely 20 by 25 feet, there is not much to see here. A recent mowing caused historian Jim Roache to wryly ponder if a cookout was planned, as this is a perfect picnic spot.
What lies beneath, however, is a part of Canton's history that is both celebratory and sad. This plot was not planned; rather it was opened by necessity. In 1763, a full-blown epidemic ravaged Boston, and in May 1764, the scourge of smallpox darkened the small town of Stoughton. In the Canton Historical Society, in a lead-lined drawer, there is a small diary written in the hand of the Minister Elijah Dunbar. The entries are indescribably small and equally hard to read. The diary entries for 1764 are dark and forlorn. It would appear that people were falling ill at an alarming rate. The time was known as the "visitation," and nothing would stop the pox from indiscriminately cutting down young and old in a matter of days.
Elijah Dunbar writes: "May 27, terrible time on account of the pox." In June the entries pick up the pace of the disease: "Vilet died this night, a very terrible time, Leonards folks taken with the small pox, Mrs. Vose dies of the small pox, Old Joseph Fenno dies, Polly Billings dies of the small pox; purple sort, Leonards family in great distress, Sunday Mrs. Davenport dies of the small pox."
By mid June, the parish began fasting and prayer in the hope of staving off the disease. At this same time, Mary Leonard and her newborn baby die followed three days later by Nurse Howard. Families perished, only to find few willing to bury the dead.
The Gridley Cemetery was opened to bury these dead souls. There are no official records that tell us who are interred in this ground. The markers were standing in 1893, but they are long lost. Folklore suggests that they were taken away and used as stone steps or foundation rubble in some of the homes in the vicinity. We do have a record of a few of the carvings.
They all tell a sad story: "Here lies ye body of Mr. Wally Leonard, who died of small pox, June the 14th, 1764, in the 44th year of his age." And another: "Here lies ye body of Mrs. Mary Leonard, and her new born babe, the wife and child of Ensign Nathaniel Leonard, who died of small pox, June ye 14th, 1764, in the 39th year of her age." Even the young were hardly spared: "Here lies the body of Mary Billings, daughter of Mr. William and Mrs. Mary Billings, who died of small pox, June 8, 1764, in the 18th year of her age."
Eventually the small cemetery was enclosed with two low stone walls and became part of the conveyances when abutting property was sold. Principally, the cemetery was opened as a family burying plot for the Leonard family. You may recall Nathaniel Leonard carved the 1736 milestone, our oldest marker and now at Shepard's Pond. Perhaps Leonard carved some of the stones that have been long lost. After Leonard died in 1772, his son Jacob conveyed the property to Richard Gridley, Edmund Quincy and others.
Major General Richard Gridley was an impressive man in American history. In fact, Gridley is credited as the founder of the U.S. Army Corp of Engineers. Born in Boston in 1711 to a well-established family, he would become a giant in the American Revolution. Space does not allow a full explanation of his accomplishments, but suffice it to say that Gridley was a patriot in the truest sense of the word. At age 61, Gridley had business interests in Canton and was involved in a venture that purchased Massapoag Pond to mine it for iron ore that would be used to cast cannons for the American Revolution. In the spring of 1772, Gridley purchased a house in Canton from the Leonard family. Gridley named his home "Stoughton Villa." The house is now gone, but it is rumored that the peonies on the property still bloom from the stock planted by Gridley. Along with the house came the small burying ground.
Alongside the graves of the smallpox victims, the Gridley family is buried. General Gridley's son, Scarborough, was laid to rest in 1787, and Gridley's wife, Hannah (Demming), was buried in 1790. There were two daughters, Becky and Polly, who are perhaps buried here as well. It was the general, however, who was buried here to which the name of this place is attached.
In a declining age, Gridley was in financial distress. His business partnership had soured and had caused considerable financial drain. Among Gridley's creditors was listed John Hancock, Edmund Quincy's brother-in-law. Gridley's last public appearance was at the laying of the cornerstone of the Massachusetts State House in 1795. That same year he signed the petition for the Act of Incorporation of the Town of Canton. In late life, at an advanced age, Gridley took great pleasure in tending to his gardens. Cutting dogwood bushes in the summer of 1796, Gridley contracted blood poisoning and died at age 85. On June 23, the old revered general was laid to rest in the quiet spot of this family graveyard.
For almost 80 years the grave was neglected. As early as 1874, however, a move was afoot to somehow recognize this great man. Gridley, a Freemason, was celebrated in an early magazine article written by Brother D.T. V. Huntoon, with a closing remark that read: "The school that is situated nearest to where his house stood is called the Gridley school, but the children, as they pass and repass the little graveyard, know not that one of the distinguished men of the Revolution sleeps his last sleep in its quiet precincts. But the Patriot and Mason, as he passes, may pause and ask himself: Is it right that one, who in days gone by defended his country with bravery, and upheld the ancient landmarks with zeal, should thus be forgotten and neglected by his Brethren and countrymen?"
On an autumn day in 1876, a small committee of men gathered at the Gridley Cemetery with the intent to remove the moldering remains of the deceased patriot. After a false start, the men located the grave, and seven feet below the surface the coffin was reached. A trowel was used to clear the grave, and the skull of Gridley was lifted from the earth. A quantity of grey hair attached helped identify the remains, to which a small braided ponytail, his queue, was pocketed by Elijah Morse. The contents of the grave were placed in a box and reinterred at a suitable monument at the Canton Corner Cemetery.
Today, you can visit Gridley's final resting place, impressive in size and topped with a cannon in the imitation of a "Hancock" or "Adams," which served Gridley so well at Bunker Hill. On the other hand, you can visit his wife and family more than two miles away to the south on Kinsley Place, in a long forgotten graveyard that tells a story that should be memorialized and respected for the souls buried therein. On this 215th anniversary of Gridley's death, plan a pilgrimage to both spots and pay homage to the man and his family, a true son of Canton and of America.
Short URL: http://www.thecantoncitizen.com/?p=5616

Posted by
George T. Comeau
on Jun 1 2011. Filed under
Canton History
,
Features
. Both comments and pings are currently closed.