Town pays tribute to fallen heroes
By
Mary Ann Price
Despite threatening skies and muggy weather, hundreds turned out for the annual Memorial Day ceremony at the flagpole at Canton Corner Cemetery. Canton Veterans' Agent Tony Andreotti welcomed the crowd with a reminder of recent world events.
"We have had nine 9/11s since 9/11 and we can finally say that Osama bin Laden is dead," he said. He went on to remember 19-year-old Marine Lance Corporal Shayne Cabino, who was killed by a roadside bomb in Iraq in 2005.
Following a moment of silence, a roll call of men and women from Canton who gave their lives in service was held, to the quiet, steady beat of a drum roll. They were honored with the playing of Taps and the National Anthem by the Canton Post 24 American legion band. The Rev. Michael F. McLellan, pastor of St. John the Evangelist Church, gave the invocation.
Denise Thornton attended the ceremony along with her father, Bob DeYeso, Sr., 86, who served in the Army during World War Two and was seated with other veterans.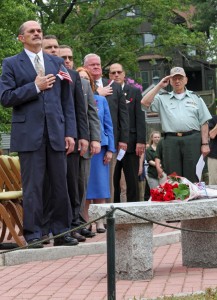 "I think this is one of the most important days of the year for people to show their respect for the military," Thornton said. Her brother, Bob DeYeso, Jr., is an Army colonel in Japan and a Desert Storm veteran, and her father-in-law, Joe Thornton, is a Korean War veteran.
John Friel served in the Air Force in Korea and was in full military uniform on Monday. "We lost his brother in Vietnam," his wife, Linda, said. "It's a very special day."
State Representative Bill Galvin also recalled Cabino as he talked of the servicemen and women who never sought grand parades and eulogies. "Today we set aside a day to honor our fallen heroes," he said.
John Connolly, chairman of the Canton Board of Selectmen, reminded people of the debt that is owed to those who made the ultimate sacrifice. "We can pay that debt back by not forgetting," he said.
Students from the Galvin Middle School read poems written by service people, along with one by the daughter of a military family.
"I thought it would be nice if the words came from those who serve their country," said their teacher, Elaine McCarthy, who teaches eighth grade social studies.
The students are Rose Mancuso, Julie Salisbury, Marissa Pati, Isabelle Hegland, Victoria Pierre, Maddie Kaplan, Paige O'Riordan, Dylan Winchell and Andrea Eng.
Canton High School sophomore Dan Sheehy read the Gettysburg Address. Ann Galvin played the guitar and led the crowd in singing "America the Beautiful" and "God Bless America."
Veteran David A. Schnopp, who died in 2002 at age 55, was honored at the ceremony. Schnopp served in Vietnam in 1971 and 1972. He died of sudden heart problems, and the government recently declared his death to be service connected because he was exposed to Agent Orange.
"David was drafted," said his widow, Marie. "He was a pacifist. He loved peace. But he went, he served and he came back, luckily. Their lives were cut short, these guys in their 50s. I want to commend Tony Andreotti who works tirelessly to make sure none of these men are forgotten."
A plaque in Schnopp's memory was added to the Vietnam memorial bench.
Short URL: http://www.thecantoncitizen.com/?p=5642

Posted by
Mary Ann Price
on Jun 1 2011. Filed under
News
.