CHS boys' soccer team improves to 7-0
By
Jeffrey Pickette
The final score may have been 6-0, a game where the offense was "clicking," but Canton High boys' soccer head coach Danny Erickson credited his team's win over Silver Lake Regional last Friday in part to Colby Gavigan's performance in net.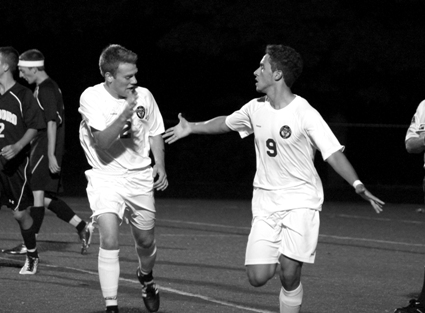 "It sounds silly that in a 6-0 game your goalkeeper was important, but Colby made some really big saves last Friday night," Erickson said. "It was really wet. It was a tough night to be a goalkeeper. I think Colby came up really big for us and had a lot to do with that score being lopsided."
Gavigan registered seven saves in the win, his fifth shutout of the season. The victory followed a 3-1 win over Foxboro last Wednesday at home. Through seven games, Canton stands at a perfect 7-0, outscoring the opposition a combined 24-2.
"Overall it was a real solid performance in both games for us," Erickson said. "We didn't think we played particularly well against Sharon [a 1-0 win on September 25], so we bounced back with two very good games."
Against Foxboro, Ramon Ambrosio, Chris Murray, and Drew Blake (first varsity goal) provided the scoring for the Bulldogs. The Warriors added a goal in the final minutes of the game, snapping Canton's 450-minute shutout streak.
With the win, Canton has created some separation at the top of the Hockomock League's Davenport Division standings, recording a victory over each of their division foes (Sharon, Oliver Ames, Stoughton, and Foxboro).  The Bulldogs will face each of these teams once more, in addition to playing the Hockomock's Kelly-Rex Division teams once apiece.
Against Silver Lake, Ambrosio scored the first goal 12 minutes into the game. It marked not only the fifth straight game in which Ambrosio has scored, but also the fifth straight game in which he scored Canton's first goal. Chris Murray netted back-to-back goals in the second half. Eric Wong, Jimmy Kelly, and Matt Malloy rounded out the scoring for Canton in the team's final non-league matchup of the regular season.
Canton continues to excel without two of the team's biggest offensive threats, Igor Perun and Loris D'Orio, who have been limited to a combined three games. Erickson hopes to get Perun (ankle injury) and D'Orio (quadriceps pull) back in action soon.
Canton traveled to King Philip on Monday and to Mansfield on Wednesday. The team hosts Oliver Ames on Friday.
Short URL: http://www.thecantoncitizen.com/?p=2301

Posted by
Jeffrey Pickette
on Oct 7 2010. Filed under
High School
,
Sports
. Both comments and pings are currently closed.