Ice House pulls liquor license request amid opposition
By
Mike Berger
The owners of the Canton Ice House withdrew an application for an all-alcohol restaurant license just hours before a scheduled hearing with the Board of Selectmen earlier this week after receiving several letters of opposition from various town officials.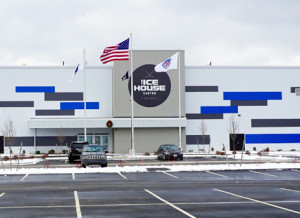 Selectmen opened the public hearing on the license at Tuesday night's meeting, at which point Paul Schneiders, representing the Canton Ice House, informed the board of his clients' intent to withdraw the application.
Ice House owners William Dadasis, Charles Giacchetto and Matthew Dimock wrote to selectmen, "Given the tone and content of the letters, we do not wish to put the board in a very awkward position and we therefore withdraw our application."
The owners recounted their efforts to get their facility up and running soon after the Metropolis Ice Rink collapsed in 2015. They also noted that they continue to offer discount rates for Canton Youth Hockey and Canton High School while also providing two coaches' offices and two custom locker rooms free of charge for the high school teams.
The owners said they hoped that the license could have helped offset a current financial deficit with additional revenues. "The three of us are extremely disappointed that these town officials have such strong opposition to our application, which we feel is a completely reasonable proposal with substantial precedent," they wrote. "We are not sure how best to proceed going forward."
Police Chief Ken Berkowitz and Fire Chief Charles Doody both spoke at the hearing and agreed that an alcohol license does not mix with youth hockey.
"I agree this group stepped up big time when there was a need," said Doody. "But as a public safety [official], I can't support this."
Berkowitz said he wished the full hearing had been held so he could have heard both sides of the issue.
Resident Stephen Hagan of Will Drive also spoke at the meeting and voiced his opposition to the license proposal, noting that he could not support a liquor license in a venue where young hockey players are playing. He also asked the town to have police step up enforcement of the stop signs for motorists exiting the ice rink off Will Drive …
See this week's print edition for more highlights from the January 9 selectmen's meeting. Not a subscriber? Click here to order your subscription today (also available in digital form).
Short URL: http://www.thecantoncitizen.com/?p=37935

Posted by
Mike Berger
on Jan 12 2018. Filed under
News
,
Police & Fire
,
Town Government
. Both comments and pings are currently closed.