Year in Review Excerpt: A Look Back at 2017
By
Jay Turner
The following is an excerpt from the Canton Citizen's 2017 year in review. Check out this week's paper for a look back at some of the other top stories of 2017, including corruption scandals with Canton ties, CAASA's substance abuse prevention efforts, and much more.
Voters opt for fresh faces in memorable town election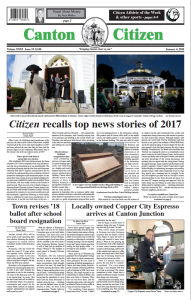 After a lackluster 2016 town election season, the drama returned in 2017 with a competitive four-way selectmen's race that was as fascinating as it was unpredictable. The race kicked off shortly after the New Year with Selectmen Chairman Bob Burr's surprise announcement that he would not be seeking another term, prompting a flood of prospective challengers to pull nomination papers. At one point, there were as many as seven potential candidates for two open seats, headlined by multi-term incumbent Victor Del Vecchio, who was widely viewed as the favorite to retain his seat. There was even a bit of family intrigue as Planning Board Chairman Jeremy Comeau jumped into the race while older brother Jonathan Comeau, who had announced his intention to run several months prior and had developed a significant following on social media, chose to withdraw his name from consideration. In the end, however, it was the two fresh faces in the race — Chris Connolly and Tom Theodore — who captured the attention of the electorate, with Connolly carrying four of six precincts and finishing as the overall winner and Theodore, who had never held elected office, prevailing in the other two precincts and nabbing the second seat.
Schools embrace landmark reorganization plan
After conducting a previous in-house study of school building space needs and embarking on a lengthy and mostly fruitless search for a new central administration building, Canton school officials turned to the experts at Dore & Whittier Architects to put together a brand-new facilities master plan — and the final product, approved in September after an extensive public study process, outlines a bold new vision that could reshape the entire district for generations to come. At the core of the new plan is a grade reorganization proposal that would move pre-kindergarteners to the elementary schools, fifth graders (and all central office staff) to the middle school, and eighth graders to a new separate academy in the Rodman building. The plan also calls for major renovations to the Rodman and Galvin schools, the addition of modular classrooms at all three elementary schools, and future building upgrades at the elementary and high schools. The School Committee voted 5-0 in favor of the proposal and also set forth an initial seven-year plan that comes with an estimated price tag of $214 million — minus a potential sizeable reimbursement from the Mass. School Building Authority.
TreeTop zoning dispute boils over
What started as a one-man battle over the location of an outdoor zip-line park transformed into a bitter and complicated zoning controversy that seemed to produce far more losers than winners. Although popular with patrons, the newly built TreeTop Adventures park had become a sore spot for the residents of Ward Well Road, and at the repeated urging of nearest abutter Ed Tasi, the town agreed to look into their concerns. By July, Canton Building Commissioner Ed Walsh had concluded that TreeTop was improperly sited on a residentially zoned parcel owned by the Irish Cultural Centre, and he issued a cease-and-desist order to the park's owners, who denied any prior knowledge of the zoning discrepancy and promptly filed an appeal with the zoning board. During the appeal hearings, many residents laid the blame on the project's engineer, former Canton Conservation Agent Robert Murphy, for submitting incomplete and possibly deceptive plans, while others faulted the town for what they argued was a stunning lack of oversight. In the end, the neighbors got their wish as TreeTop's owners announced plans to tear down the park and move it to the main ICC campus, pending town approval. Still, the entire ordeal was not without its costs, both in terms of dollars spent by multiple parties — including substantial legal fees incurred by Tasi — and the trust that was lost between neighbors and the town …
Check out this week's print edition for an in-depth look at the past year in Canton news, sports, and more. Not a subscriber? Click here to order your subscription today (also available in digital form).
Short URL: http://www.thecantoncitizen.com/?p=37889
Posted by
Jay Turner
on Jan 5 2018. Filed under
News
,
Schools
,
Town Government
. Both comments and pings are currently closed.