Squirt Black wins epic battle to move into 1st place
By
Guest
In the biggest game this side of the Patriots vs. the Steelers, the Canton Squirt Black hockey team recently faced off against perennial powerhouse Hingham in a battle for league supremacy and prevailed 4-3 in a hockey game for the ages.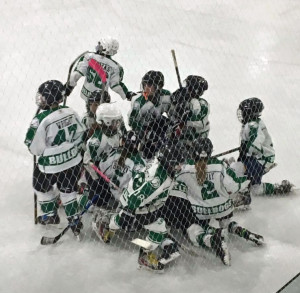 Both teams came out flying with Hingham pressing the action early, but Canton struck first on a counterattack with a grind-it-out goal from Ryan DeLello. DeLello would not be denied as he charged through two defenders and followed his own shot to slide it past the Hingham goalie. Assisting on the goal were James Howard and Teddy McDonough, who each out-hustled their opponent, leading to the all-important first goal.
The early lead did not last, however, as Hingham began to take control and answered with two goals of their own. Hingham plays a similar game to the great teams from Russia during the cold war — it's an intricate flowing approach that favors puck possession and teamwork — so Canton's only answer was to match that skating game and out-work their opponent and win the puck battles to gain their own possessions. With all the momentum on Hingham's side and time running out in the first period, Canton evened the score on a beautiful goal by James Howard. Howard's game is a rare combination of speed, skill and grit, and his goal showed all those qualities and made sure this game would not slip away from the home team.
The Bulldogs woke up and played some of their best team hockey of the year in the second period. This team wins from the back to the front and superstar goalie Abi Bento along with Canton's stellar defensive corps of Kevin McCabe, Georgia Anne "GA" Penders, Cate Budway, and Jack Feeney shut down the free-flowing skating of Hingham and would not allow a goal by their opponent. Dynamite two-way hockey from forwards Dylan Wright, Tyce Thomas, Dylan Laurenco, and Izzy Digirolamo prevented Hingham's offense from gaining any footing.
With the score still knotted at 2 midway through the period, Canton took the lead on a breakaway spinorama backhanded goal by Thomas Walsh. Walsh's goal came on a great breakout pass by Budway. Canton continued to push the play and came through again on another goal by Howard, who was assisted by Feeney from the point.
It looked like Canton would coast to victory as the game moved to the third period, but once again the momentum shifted sides and Hingham took control of the game. Cheating several forwards out on breakout plays, Hingham stormed the Canton net throughout the final period. Some incredible saves by Bento and overall team defense held the fort until Hingham finally broke through with three minutes left in regulation to pull within one. Those last three minutes felt like an eternity for the Canton team, but they kept battling and cycled through their entire roster to prevent the tying goal. With 58 seconds left and Hingham's goalie pulled to give them an extra skater, Canton made several standout defensive plays in their zone to prevail in this epic game.
As a reward for their efforts, the kids and parents enjoyed a post-victory Christmas party celebration organized by team parent and Chief Party Officer Aimie Digirolamo. As they head into the second half of their season, Squirt Black will look to continue to improve, compete, and have fun as a team.
Short URL: http://www.thecantoncitizen.com/?p=37881

Posted by
Guest
on Dec 30 2017. Filed under
Sports
,
Youth Sports
. Both comments and pings are currently closed.