CHS awarded Level 1 MCAS designation
By
Mike Berger
Canton High School recently celebrated a significant milestone achievement as it was promoted to Level 1 status as determined by the state Department of Elementary and Secondary Education. DESE awards each school an accountability level from 1-5 based on MCAS performance and progress on "gap-narrowing goals," and this marks the first time that CHS has been assigned to Level 1.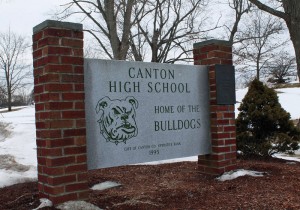 The high school now joins the Hansen Elementary School as the only Canton schools to attain this prestigious designation. CHS is currently one of 71 high schools across the state that have been awarded Level 1 status.
At the December 14 School Committee meeting, Superintendent Dr. Jennifer Fischer-Mueller congratulated CHS Principal Derek Folan, the CHS faculty and staff, and all of the ninth and 10th grade students for their continued exemplary performance.
Commenting on the designation, Folan said, "I'm so proud of the students and staff. I'm so happy for everyone in the Canton Public School district. Everyone, in their own way, played a role in this great achievement. This type of growth and achievement requires great collaboration, strong relationships, an inclusive approach, and high standards for all."
Folan said the criteria for reaching Level 1 included the following: overall MCAS achievement levels; meeting and exceeding target goals for narrowing achievement gaps on MCAS, especially for subgroups such as high needs students; increasing the percentage of students from proficient to advanced; decreasing the percentage of students in the failing category; increasing the student growth percentile in MCAS subject areas and meeting target goals; increasing the four- and five-year graduation rates; decreasing the annual dropout rate; and maintaining high participation rates for MCAS testing.
Folan said attaining Level 1 status represents a "true commitment to our core values, especially academic excellence and rigor for all students."
"As a school community, we have committed to high expectations for an academic culture and approach, and we match that commitment with high-level support," he said. "Just like last year's AP Honor Roll designation, this Level 1 achievement is representative of the work at every level of the district. Each level is making this commitment to educate all students at the highest level with the best instruction practices and the best curriculum."
Folan said the CHS staff has developed standards-based curriculum units and intervention approaches that address areas of growth, while the pre-K-12 Vertical Alignment Team, led by Assistant Superintendent Jen Henderson, has done "remarkable work to enhance and improve the educational experience of students."
He added that the school has provided extra help and tutoring opportunities for students and has dedicated itself to data analysis to identify areas of improvement.
Folan said the school has also made a strong commitment to nurturing a welcoming and safe environment. "We believe an authentic sense of belonging allows students to achieve at the highest level and exceed expectations," he said. "I am thankful for programs like the Link Leader Crew, the Bridge and Connection Programs that help with the transition to high school. I love that my staff has dedicated itself to really knowing their students, and we are lucky to have an exemplary teaching, guidance and support staff who believe in our values and our mission. They come to work to improve the lives of students, and their unwavering commitment to students is so admirable …
See this week's Canton Citizen for more highlights from the December 14 School Committee meeting, including a summary of Folan's plan to strengthen the AP program at CHS. Not a subscriber? Click here to order your subscription today (also available in digital form).
Short URL: http://www.thecantoncitizen.com/?p=37813

Posted by
Mike Berger
on Dec 23 2017. Filed under
News
,
Schools
. Both comments and pings are currently closed.