A Look Inside: Canton Citizen's November 30 edition
By
Canton Citizen
Check out this week's issue of the Canton Citizen for the latest in Canton news, sports, events, and more. Highlights from the November 30 edition include: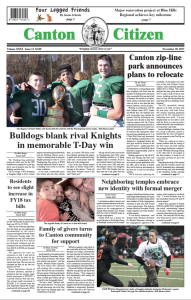 * Canton zip-line park announces plan to relocate, including details on the proposed new park
* Photos and highlights from the CHS football team's big win over Stoughton
* Temple Beth Abraham and Temple Beth Am approve formal merger
* Family of givers turns to Canton community for support following frightening diagnosis
* We Are Canton: Sample photos from the Canton Public Schools 2nd annual exhibit
Also, don't forget to check out our many weekly features, including:
* Man About Canton by Joe DeFelice
* Agent's Corner from Canton Veterans Agent Tony Andreotti
* Recipes of the Week by Laurie Vachon
* Canton Police Log, In the Spotlight, and much more.
Click here to order your subscription today, or check out our new digital edition, the e-Citizen.
Short URL: http://www.thecantoncitizen.com/?p=37652

Posted by
Canton Citizen
on Dec 1 2017. Filed under
Uncategorized
. Both comments and pings are currently closed.