FinCom to split cost of school feasibility study
By
Mike Berger
The Canton Finance Committee has agreed to split the cost of a feasibility study that will help to determine some of the key components of the Canton Public Schools' facilities master plan and associated grade reorganization proposal.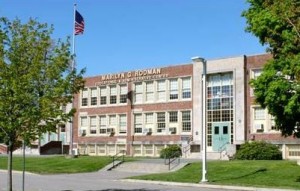 The landmark plan, approved by the School Committee last month, calls for a series of renovations and a restructuring of the elementary and middle school levels, with fifth graders moving to the Galvin and eighth graders moving into a separate academy in the Rodman building.
The feasibility study will examine three major pieces of the master plan: installation of modular classrooms at the elementary schools; renovation of the Rodman building for use as a grade 8 academy; and the temporary relocation of central administrative offices until the Galvin Middle School is renovated.
While school officials had hoped to fund the $200,000 study entirely from a FinCom reserve account, FinCom members agreed instead to an even split with the schools. School Committee Chairman Mike Loughran, speaking at the School Committee meeting last Thursday, said it will be challenging to come up with $100,000, but "doable," adding that discussions with the FinCom went well.
It is hoped that the study can get underway by the end of December or sooner so the results can be discussed at the May town meeting.
In earlier public forums, it was projected that the School Committee would submit a $10 million funding request at the May town meeting to cover design and construction costs for the elementary modulars, Rodman renovations, and temporary central offices.
School Superintendent Dr. Jennifer Fischer-Mueller, in her regular superintendent's report, summed up the second of two recent public forums hosted by the School Department to discuss the Strategic Framework and facilities master plan. "One of our goals was to share the message that the Strategic Framework and facilities master plan together represents an important advancement for the district, as they bring our educational vision, values, and facilities into alignment," she said. "During the forum, participants asked excellent questions and engaged in small-group discussions about the first phase of the facilities master plan. While we were able to address some questions that evening, we will address other questions through the feasibility study …
See this week's Canton Citizen for more highlights from the October 12 School Committee meeting. Not a subscriber? Click here to order your subscription today (also available in digital form).
Short URL: http://www.thecantoncitizen.com/?p=37343

Posted by
Mike Berger
on Oct 20 2017. Filed under
News
,
Schools
,
Town Government
. Both comments and pings are currently closed.