New-look Celtics squad visits Canton for Media Day
By
Jay Turner
New-look Celtics squad visits Canton for Media Day 2017
For one day last week, the center of the Boston basketball universe shifted a few miles south to Canton as coach Brad Stevens, recent arrivals Kyrie Irving and Gordon Hayward, and the rest of the new-look Boston Celtics marked the unofficial start of the 2017-18 season with Media Day at High Output Inc. on Route 138.
Nearly the entire Celtics team, along with members of the coaching and front office staffs, spent a good portion of the day on Monday, September 25 at the Canton-based production company posing for photographs, shooting video spots, and fielding questions from the assembled media horde before departing for the start of training camp at Salve Regina University in Newport, Rhode Island.
With several high-profile young additions, including No. 3 overall draft pick Jayson Tatum, the Celtics enter the preseason as one of the favorites in the NBA's Eastern Conference and have received a considerable amount of national buzz. And that level of excitement and intrigue was apparent on Media Day with reporters and broadcasters turning out in droves to meet the new faces and talk about the upcoming season.
Alison Katinger, senior account executive at High Output, estimated that there were "several hundred" people in attendance at the event, including staff members from ESPN, NBA, NBC Sports Boston (formerly Comcast SportsNet), and 98.5 The Sports Hub. In addition to conducting press conferences and one-on-one player interviews throughout the afternoon, Katinger said NBC Sports also shot all of its in-game footage and quick advertising spots while the Celtics shot the video content that is displayed on the jumbotron during games.
"They had blacked out our largest studio (Studio A), save for some glowing green drones," recalled Katinger in an email to the Citizen. "One of the large drones had a moving spotlight on it that followed the players as they did their actions (dribbling, layups, etc.). The director of photography followed him around on rollerblades to get smooth shots."
While it was their first time serving as the host venue for Celtics Media Day, Katinger said High Output had worked on the event for many years at the team's practice facility in Waltham, providing lighting and grip equipment, camera support, electrical power, production supplies, and labor. "They knew about our capabilities and our studio complex, so it was a natural progression to move the event to our facility in Canton," she said.
The move to Canton enabled the Celtics and their media partners to take advantage of High Output's three fully equipped studios, collectively known as Charles River Studios, which each feature two-wall cycloramas (infinity backgrounds), 200 amp power supply, production offices, and an extensive inventory of lighting, grip and production accessories.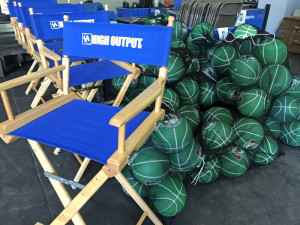 The company itself has been at its current headquarters at 495 Turnpike Street since 2002 and has grown into one of New England's leading suppliers of production services and equipment, with additional locations in Brighton, Portland (ME), Providence, Charleston (SC), and Savannah (GA). Its list of film and TV credits is extensive and includes such popular titles as American Hustle, Ted and Ted 2, and The Town (based on the award-winning crime novel Prince of Thieves by Canton native and CHS graduate Chuck Hogan).
High Output has also worked on the PBS series Antiques Roadshow for 21 seasons and has done major commercials for Victoria's Secret, Under Armour, and Tom Brady's infamous "Roger That!" Super Bowl spot for Shields MRI.
"We also work very heavily in the special events world," noted Katinger. "We've provided equipment, staff, and services for both of the major political conventions, for graduation ceremonies for the most prestigious universities in the country, and for high-end galas and fundraisers. We are currently working on providing design, lighting, A/V, electrical power, and much more for Boston's upcoming HUBweek."
As for last week's Celtics Media Day activities, Katinger, who spearheaded the project, characterized it as a major success and a big win for High Output. "The event went great!" she exclaimed.
Of course, none of it would have been possible, she said, without the efforts of the entire High Output team. "We had four studio managers running the complex the day prior (for setup) as well as on the actual event day," she said. "In the week leading up to the event, our operations staff, consisting of approximately 25 people, was busy pulling and testing all of the equipment needed and modifying the studio spaces to the client's needs. Each one of our projects is truly a group effort."
Katinger also had nothing but kind words for the Celtics staff and players, many of whom are still familiarizing themselves with the Boston region since arriving here in recent weeks via trade or the NBA draft.
"The Celtics staff couldn't be nicer and the players, even after a very long day of interviews, were all incredibly friendly," Katinger said. "Everyone was truly amazing."
To watch video coverage of Boston Celtics Media Day, go to www.nba.com/celtics/mediaday. For more information on High Output, go to www.highoutput.com.
Short URL: http://www.thecantoncitizen.com/?p=37231
Posted by
Jay Turner
on Oct 6 2017. Filed under
Features
. Both comments and pings are currently closed.