A Look Inside: Canton Citizen's October 5 edition
By
Canton Citizen
Check out this week's issue of the Canton Citizen for the latest in Canton news, sports, events, and more. Highlights from the October 5 edition include: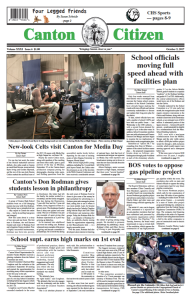 * School supt. earns high marks on first evaluation
* Canton's Don Rodman gives students lesson in philanthropy
* Selectmen vote to oppose gas pipeline project
* Photos of the Blessing of the Animals service at the Congregational Church of Canton
* Canton Citizen Athlete of the Week and more CHS sports
Also, don't forget to check out our many weekly features, including:
* Man About Canton by Joe DeFelice
* Agent's Corner from Canton Veterans Agent Tony Andreotti
* Bulldog Sports Scoreboard and Athlete of the Week
* Canton Police Log, In the Spotlight, and much more.
Special 30th Anniversary Promotion for new in-town subscribers: $20 for 52 issues, offer valid through 10/15/17 (reg. price is $35). Click here to order your subscription today, or check out our digital edition, the e-Citizen.
Short URL: http://www.thecantoncitizen.com/?p=37245

Posted by
Canton Citizen
on Oct 6 2017. Filed under
Uncategorized
. Both comments and pings are currently closed.