A Look Inside: Canton Citizen's September 21 edition
By
Canton Citizen
Check out this week's issue of the Canton Citizen for the latest in Canton news, sports, events, and more. Highlights from the September 21 edition include: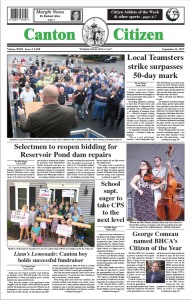 * Interviews with top education officials on big changes coming to the Canton Public Schools
* Selectmen to reopen bidding for Rez dam repairs and more BOS news
* Liam's Lemonade: Canton boy holds successful fundraiser
* Photos from last weekend's Festival at the Farm event at Prowse Farm
Also, don't forget to check out our many weekly features, including:
* Man About Canton by Joe DeFelice
* Agent's Corner from Canton Veterans Agent Tony Andreotti
* Little Bit of Laurie — weekly recipe column by Laurie Vachon
* Canton Police Log, In the Spotlight, and much more.
Special 30th Anniversary Promotion for new in-town subscribers: $20 for 52 issues, offer valid through October 15 (reg. price is $35). Click here to order your subscription today, or check out our new digital edition, the e-Citizen.
Short URL: http://www.thecantoncitizen.com/?p=37151

Posted by
Canton Citizen
on Sep 22 2017. Filed under
Uncategorized
. Both comments and pings are currently closed.