A Look Inside: Canton Citizen's May 11 edition
By
Canton Citizen
This week's issue of the Canton Citizen was mailed to all Canton addresses. Now through June 1, new in-town subscriptions are just $25 for 52 issues (a savings of $10). Highlights from the May 11 issue include: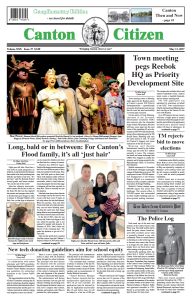 * Full coverage of the May 8 session of annual town meeting (see next week for a recap of the May 10 session).
* Photos/cast list from the Hansen School production of Shrek the Musical Jr.
* Flood family helps puts alopecia diagnosis in perspective
* True Tales from Canton's Past by historian George T. Comeau
* Upcoming events: Cheryl's Kids Bake Sale, Summer Fun & Safety Fair and more
Also, don't forget to check out our many weekly features, including:
* Man About Canton by Joe DeFelice
* Agent's Corner from Canton Veterans Agent Tony Andreotti
* Little Bit of Laurie — weekly recipe column by Laurie Vachon
* Canton Police Log, In the Spotlight, and much more.
Click here to order your subscription today, or check out our new digital edition, the e-Citizen.
Short URL: http://www.thecantoncitizen.com/?p=36181

Posted by
Canton Citizen
on May 12 2017. Filed under
Uncategorized
. Both comments and pings are currently closed.