MAC: Interesting Election Statistics
By
Joe DeFelice
Did you know …
As seen in the recent past, the majority of Cantonites clearly do not vote in town elections. If four excellent candidates running for selectmen, including a longtime (15-year) incumbent, could only persuade 16.0 percent of the 16,415 registered voters in Canton to go to the polls, then we are in trouble. Incidentally, this was almost the exact percentage (15.9 percent) that voted two years ago when five well-known candidates ran for selectmen. In Canton's town election, only 2,640 of the 16,415 registered voters cast a ballot. There were 107 absentee ballots cast with the majority going to one of the winners, Chris Connolly.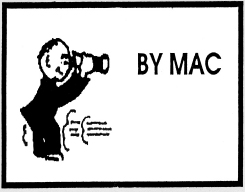 In analyzing this year's selectmen's race, word around town before the election was that if candidates and eventual winners Chris Connolly and Tom Theodore got their supporters to actually vote, they would win. Both ran a very positive campaign and their voters did get out and vote. Connolly, age 50, has a large family with many followers between ages 35 and 55, which includes parents with school-age kids and many within the youth sports community, while Theodore, age 60, manager of the Canton Town Club, was able to organize the almost 300 members to get out and advocate for him and financially support him. Theodore was the winner of precincts 1 and 5, the so-called "Townie Precincts." When interviewed on Election Night on Canton Community TV, a grateful and ecstatic Theodore said he was "shocked" that he was able to pull out the win against more experienced candidates.
Incumbent Vic Del Vecchio, a 15-year selectman and former Planning Board member, and Jeremy Comeau, a 15-year Planning Board member, seemed to be running in tandem judging by what they had to say on Facebook, which was very similar. Their supporters also held signs together on many occasions, and Comeau had initially served as Del Vecchio's campaign manager before jumping into the race himself. Some observers have suggested that this hurt the incumbent Del Vecchio. Others said the voters were looking for new faces and a change in the selectmen seat and that is what voters got as two fresh faces were elected.
In the only other contested election, Patricia McDermott, wife of local historian and Canton Citizen columnist George Comeau, defeated newcomer Patrick Manning 1,284 to 987. Manning did better than expected, and he said that he will run again.
Precinct 2, home of Chris Connolly, again topped the six voting precincts with 1,056 total votes with Connolly garnering 340 votes, the most of any precinct. Two years ago, Precinct 2 led all precincts with 502 votes. This year, 591 voters made the trip to the Dean S. Luce School. Precinct 1, which includes the old townie section of "BMR" (Bolivar, Rockland, and Mechanic) was won by Theodore with 204 votes. Only 336 voted with Theodore getting 60 percent of the vote. Precinct 3, the so-called East Canton section, had only 294 voters make the trip to the Blue Hills Regional School to cast their votes, the lowest turnout in the town. Connolly won four of the six precincts (2, 3, 4 and 6) while Theodore won the other two precincts, 1 and 5.
The second largest voter turnout came in Precinct 4 with 534 votes, followed by Precinct 5 with 497 and Precincts 6 with 388.
While the final reports on contributions and expenditures are not due until May 4, as of April 4 (Election Day), the four candidates for selectmen had some very interesting contributions. Connolly collected $9,615 and spent $8,055; Theodore collected $8,045 while spending only $3,221. Del Vecchio collected only $2,210 but started with $4,267 from previous elections. He spent $5,918 during this election. Jeremy Comeau collected $3,574 and spent $3,477.
Bill Dadasis, part owner of the Canton Ice House skating rink, donated $1,000 to both Connolly and Theodore while John Leonetti also donated $1,000 to Connolly. According to the Town Clerk's office, the $1,000 donations were the largest ever given to a single candidate.
Chris Connolly had 68 individual donations, including $500 from Rob DeLello and Chuck Giacchetto (another Canton Ice House co-owner) while 11 others gave $200 or more. Theodore received $500 from the Canton Town Club (which, by the way is legal, according to the town clerk) and $200 from Wayne MacDonald and Don McLeod, while at least 20 members of the Town Club donated $100 or more. Tom donated $3,000 towards his own campaign, while 39 other individuals donated to his campaign. Del Vecchio received donations from only 15 people this year, including $200 each from Selectman Kevin Feeney, outgoing Selectman Bob Burr, and Barbara Levine.
Jeremy Comeau received 42 donations in all, including $300 from Juanita Duserick, $200 from Kevin Feeney, $200 from Bill Feeney, and $200 from Mike Lake. Jeremy also donated $885 to himself. Interestingly, brothers Bill and Gerry Brown gave $12.50 each, the lowest contributions that were listed.
Selectman Feeney, in addition to the $200 he gave to Del Vecchio and Comeau, gave $100 each to Connolly and Theodore.
Selectman John Connolly also touched all bases, giving $100 to each candidate.
In the Planning Board race, Patricia McDermott raised $795 and spent $628. Her husband, George Comeau, donated $500 (George was also reelected to the Library Board of Trustees). Patrick Manning raised $500 all from his mother, Kathleen Manning, and spent $380.
You have to admit that there were some very interesting donations to all four selectmen candidates as well as the two Planning Board candidates.
Meanwhile, in the neighboring town of Stoughton, 17 percent of the 19,310 voters turned out for the recent election — almost the same percentage as the town of Canton. There were six candidates running for two seats available on the Board of Selectmen. Forty-three years ago, almost 50 percent of Canton voters went to the polls for a selectman's race, close to 5,000 voters. What has happened over the years? Do people just not care as much today?
There is a law that gives cities and towns the right to decide whether to allow recreational marijuana shops.
The legislature recently approved a bill that delays by six months (from January 2018 to July 2018) for the opening of retail recreational marijuana stores in the Bay State. In last year's November election, voters in the Bay State approved legalizing the use of marijuana for recreational use.
Recently, Stoughton voters overwhelmingly agreed to ban recreational marijuana shops in their town by a vote of 1,999 to 933. It is interesting to note that in the November election, Stoughton voters favored a ballot question to legalize recreational marijuana 51 to 49 percent.
There are no wrong turns, only unexpected paths.
That is all for now folks. See you next week.
Joe DeFelice can be reached at manaboutcanton@aol.com.
Short URL: http://www.thecantoncitizen.com/?p=36039

Posted by
Joe DeFelice
on Apr 21 2017. Filed under
Featured Content
,
Man About Canton
,
Opinion
. Both comments and pings are currently closed.