BOS picks Raynham director to lead Parks & Rec
By
Mike Berger
The Canton Board of Selectmen on Tuesday chose current Raynham Parks and Recreation Director Elizabeth Francis as Canton's new Parks and Recreation director out of a pool of three finalists.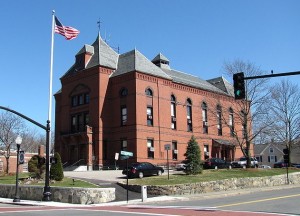 Selectmen Chairman Bob Burr said it was a very difficult decision among what he described as three very qualified candidates, including Nick Pirelli, Canton's assistant recreation director, and Matt Ruxton, vice president of sports for Special Olympics Massachusetts.
"These are three very good candidates and a difficult choice for us," said Burr.
The motion to appoint Francis was made by Selectman Kevin Feeney.
All of the selectmen noted the excellent job that Pirelli has done as interim director since former director Janet Maguire left in January to become an assistant college softball coach.
"Nick has a lot of support in this town and the decision is not taken lightly," said Selectman Mark Porter.
Porter said he hopes Pirelli stays on as assistant director — a sentiment that was echoed by the rest of the board.
Francis, a Raynham resident, has served as her town's recreation director for 10 years. She is a part-time lecturer at Bridgewater State University, teaching in the Department of Movement Arts, Health Promotion, and Leisure.
Prior to holding the Raynham job, Francis served as executive director of the Old Colony YMCA in Easton and previously served as fitness director for the Old Colony YMCA in Taunton. She also served as head women's soccer coach at Providence College.
She has a master's degree in physical education with a concentration in sports management from Springfield College.
In her letter to selectmen and the town hiring committee, Francis highlighted some of her accomplishments in Raynham, including renovating a town playground, expanding youth program offerings, opening a teen center, creating a community garden, and increasing the number of family-oriented events. She said she sought the Canton position to provide recreation and wellness programs to a larger and more diverse community.
The appointment by selectmen is contingent on contract negotiations and a background check.
In other news from Tuesday night's meeting, selectmen appeared to be moved by a presentation by School Committee Chairman John Bonnanzio and School Superintendent Dr. Jennifer Fischer-Mueller regarding Canton's school spending in comparison to 11 other nearby school districts. Canton is currently below the state average on overall per-pupil spending and is 12th out of 12 districts in spending on instructional leadership and professional development, according to Bonnanzio's presentation.
After making a similar presentation to the Finance Committee two weeks ago, the School Committee is waiting on a final budget recommendation before deciding its next move. At this point, the School Department's requested FY18 operating budget is still some $750,000 greater than the budget target recommended by FinCom. The schools are seeking a budget of nearly $41 million, which is 7.66 percent more than the current school budget, while the FinCom originally set a figure of $40.22 million — a 5.63 percent increase over this year's budget. Bonnanzio said approving the larger figure would move Canton's per-pupil spending to just above the state average and near the middle of the pack compared to the towns of Walpole, Milton, Stoughton, Foxboro, Sharon, Norwood, Westwood, Needham, Randolph, Dedham, and Wellesley.
While Canton's standardized test scores remain well above the state averages in English language arts, math and science, Bonnanzio said there have also been some performance declines at the elementary and middle school levels, most notably in science.
"I find the data compelling," said Selectman Victor Del Vecchio. "The schools are an important magnet for attracting folks. What can we do to help?"
When asked by Selectman John Connolly, a former School Committee member, if the schools were seeking an operational override, Bonnazio said it is premature at this time to hold that point of discussion. He is awaiting a response from the FinCom and is also polling …
See this week's Canton Citizen to read the full version of this story. Not a subscriber? Click here to order your subscription today (also available in digital form).
Short URL: http://www.thecantoncitizen.com/?p=35778

Posted by
Mike Berger
on Mar 24 2017. Filed under
News
,
Town Government
. Both comments and pings are currently closed.