Redmont, Bernard S.
By
Canton Citizen
Bernard S. Redmont passed away January 23, 2017, at the Orchard Cove retirement community in Canton at the age of 98. He was preceded in death last August by his beloved wife of 76 years, Joan Redmont.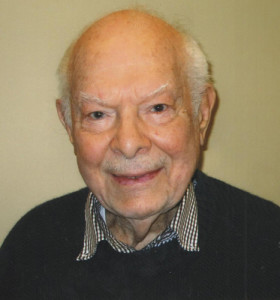 A journalist, foreign correspondent, and educator, he was a man of impeccable professionalism, deep integrity, and gentle demeanor. Media outlets have honored him in several obituaries, including the Boston Globe on Thursday, February 9, 2017.
He leaves his children, Dennis F. Redmont and his wife, Zeynep Tinaz Redmont, of Rome and Istanbul, and Jane Carol Redmont of Boston; his grandchildren and their partners, Michael Andrew Redmont and Isabel Prates Redmont of Carcavelos, Portugal, and Rodrigo Redmont and Antonella Di Tonno of Loreto Aprutino, Italy; and great-grandchildren Michael Anthony, Beatriz, Gaia, and Matteo. He is also survived by a large and loving extended family of nieces and nephews and their partners and children; and by friends and colleagues in the U.S., France, and many other nations.
A memorial service in celebration of Bern Redmont's life will be held on Friday, April 21, at 11 a.m. at First Parish Unitarian Universalist in Canton.
The family requests that memorial gifts be made to the Committee to Protect Journalists (CPJ), 330 7th Ave., 11th Floor, New York, NY 10001, www.cpj.org, and the American Civil Liberties Union (ACLU), 125 Broad St., 18th Floor, New York, NY 10004, www.aclu.org.
Arrangements by the Pushard Family Funeral Home, 210 Sherman Street, www.roache-pushard.com.
Short URL: http://www.thecantoncitizen.com/?p=35500

Posted by
Canton Citizen
on Feb 17 2017. Filed under
Obituaries
. Both comments and pings are currently closed.