School enrollment to level off, consultant says
By
Mike Berger
Despite continued economic growth and several large-scale residential and commercial projects in the works, a private architectural firm that was hired to conduct an assessment of all public schools in Canton is predicting that school enrollment will remain relatively flat over the next 10 years.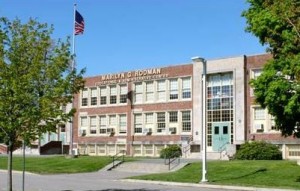 School Committee Chairman John Bonnanzio summed up the early report by declaring, "There is no pressing need for a $150 million new school."
The report, presented last Thursday by John Richardson and Emily Rae of Dore and Whittier Architects, found that the schools are in good shape overall but will need some repair and renovation work, particularly at the Rodman Early Childhood Center and the Galvin Middle School.
The report was the first of three that Dore and Whittier will present this year as part of a town-commissioned comprehensive facilities assessment. Their next steps will be to meet with district administrators and come up with plans to redesign building layouts and develop cost estimates and identify top priorities. The second report is expected in late March with a final community report due in July.
The consultants reviewed demographic trends and forecasted a total enrollment increase in Canton of just a few dozen students between now and 2026-27, which stands in stark contrast to the steady future enrollment gains projected by the town-appointed School Building Study Committee two years ago.
According to Bonnanzio, who chaired that study committee, the differing conclusions were mostly attributable to the different methodologies that the two groups used.
In a follow-up interview, Bonnanzio noted that Dore and Whittier based its study largely on birth rates, which he said was a "demographer's reliable metric." The SBSC, however, "made the assumption that exogenous 'events,' such as the [growth of] large-scale multi-family developments, may trump projected birth replacement rates."
"Where we agree," he said, "is that there is no need for another school for at least a decade."
As for the current enrollment picture, the school that is most overburdened is the JFK with 503 students and a capacity of just 350. The Luce School has a capacity of 400 students and a current enrollment of 493, while the Hansen School, despite the addition of new permanent classrooms, is slightly over its capacity of 417 students with a current enrollment of 501 students.
The middle school, according to the report, is near capacity (815) with a current enrollment of 787 students, while CHS still has plenty of room with a current enrollment of 954 students and a capacity of 1,514. The Rodman building also has lots of unused space with only 90 students and a capacity of 300.
The study found that the Galvin needs the most repair work, particularly in the areas of thermal; mechanical, electrical and plumbing (MEP)/fire protection; and interior finishes. The Rodman building will need work in the areas of thermal, MEP/fire protection, ADA, and health, safety and welfare.
Still to be determined is a permanent location for the administrative offices, which will depend in large part on the school system's future plans for the Rodman building …
See this week's Canton Citizen to read the full version of this story. Not a subscriber? Click here to order your subscription today (also available in digital form).
Short URL: http://www.thecantoncitizen.com/?p=35420

Posted by
Mike Berger
on Feb 10 2017. Filed under
News
,
Schools
. Both comments and pings are currently closed.