Water/sewer, traffic enforcement highlight budget talks
By
Jay Turner
A "substantial" increase in anticipated water/sewer costs and additional traffic enforcement needs — along with the possible reduction of speed limits in certain thickly settled areas of town — were some of the top story lines that surfaced during a discussion of the FY18 municipal operating budget at Tuesday night's Board of Selectmen meeting.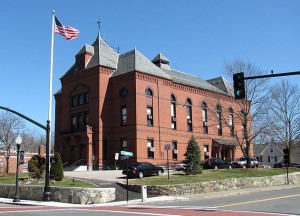 The dialogue with a half dozen department heads, including the Police and Fire chiefs and the DPW superintendent, centered on requested increases beyond the base budget, currently pegged at $19.21 million for FY18. Department heads have requested $19.84 million in spending for a total increase of $625,387.
For the DPW budget, Superintendent Mike Trotta outlined two major requests: an additional $82,000 for building and property maintenance expenses, which have not seen an increase in six years, and another $67,000 to hire a new highway foreman — partly to address the stringent requirements of the EPA's new municipal stormwater discharge permit (MS4), which takes effect July 1.
Regarding the water/sewer expenses, which are part of separate enterprise budgets, Trotta said the increases are anticipated due to significantly higher usage of Mass. Water Resources Authority (MWRA) water over the past calendar year, although the exact figures will not be known until the agency finalizes its assessments later this month.
According to Trotta, while the town had taken steps to lessen its dependence on MWRA water in recent years, the drought that impacted the region throughout the summer and fall forced the town to shut down two of its wells and rely more heavily on outside sources.
Exactly what that means for residential water/sewer bills is still to be determined, although an increase is certainly possible, he said. Trotta said another option would be to draw from the town's sizable revenue reserves to offset any increases in the MWRA assessments.
In the police budget, requested increases total $143,000 and the bulk of that figure is for projected salary increases in the next round of contracts, according to Chief Ken Berkowitz.
The other major request is for $45,000 to hire a new officer who would serve as an additional school resource officer in the school year and a traffic enforcement officer in the summer months.
Berkowitz acknowledged that speeding, parking and other traffic violations are "still pretty much [their] number-one complaint" and the additional manpower would help to reduce those concerns.
As part of the discussion on traffic enforcement, Selectman John Connolly also suggested that the town consider following the lead of communities such as Boston and Cambridge and adopting uniform 25 mph speed limits in thickly settled areas across town. A provision in the state's new Municipal Modernization bill enables municipalities to make these changes without obtaining state approval, although the provision must first be adopted by voters at annual town meeting.
"It's something I would like to look into," said Connolly, while noting the varying speed limits on roads such as Dedham Street.
Berkowitz said there are actually "quite a few" communities that are considering such a move and agreed that it might be worth exploring, although he stressed that it would require a comprehensive review of town roads and should only be considered in parts of town "where it makes sense to do so."
As for the Fire Department budget, Fire Chief Charles Doody is requesting a total increase of $195,000, which includes an additional $75,000 to cover Canton's entry into the Norfolk County regional dispatch program. Other budget requests from the Fire Department include an additional $50,000 in overtime to fully man the fire and ambulance shifts, $46,000 to promote four firefighters to lieutenants, and $24,000 to cover miscellaneous expense increases …
See this week's Canton Citizen to read the full version of this story. Not a subscriber? Click here to order your subscription today (also available in digital form).
Short URL: http://www.thecantoncitizen.com/?p=35372
Posted by
Jay Turner
on Feb 3 2017. Filed under
News
,
Police & Fire
,
Town Government
. Both comments and pings are currently closed.