Canton named to prestigious AP District Honor Roll
By
Jay Turner
When Canton High School and Canton school district administrators made the decision in 2014 to do away with prerequisites for Advanced Placement (AP) courses, they did so with the conviction that all students are capable of achieving success.
Two years later, not only do they have some promising data that they can point to; they also now have an impressive piece of hardware to display after earning a spot on the College Board's seventh annual AP District Honor Roll.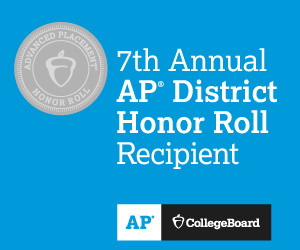 A prestigious national honor, the AP District Honor Roll is the program's only district-based award and is reserved for those school systems that show gains in both participation rates and AP exam performance over a three-year period. Canton, a first-time honoree, was one of only 424 school systems out of more than 14,000 in the U.S. — and one of only 25 out of more than 400 in the state — to receive this distinction. An additional nine school districts from Canada were also named to this year's honor roll.
"This is a very prestigious award from the College Board and it speaks highly of Canton High School's commitment to high achievement and educational equity," remarked Superintendent of Schools Dr. Jennifer Fischer-Mueller, who joined the Canton school system in July.
CHS Principal Derek Folan called it an "incredible honor" and a "shining moment for our students, our staff, and our entire school community."
"Canton High School has made the commitment to high achievement and high participation in AP classes, and to have that honored at the national level is incredible," he said. "I am so proud."
Launched in 1955 by the College Board, the AP program offers dozens of college-level courses and examinations each year to high school students across the U.S. and Canada, and thousands of colleges and universities grant course credit to students who earn high scores on the exams.
Until recently, however, access to these courses was restricted to a select few students who had demonstrated academic excellence in prior coursework. But a growing number of schools have taken steps to eliminate these barriers and open up access to more students, with a particular emphasis on increasing opportunities for underrepresented minority students.
To earn inclusion on this year's AP District Honor Roll, school districts had to meet the following three criteria: Increase participation/access by a certain percentage depending on district size; increase or maintain the percentage of exams taken by black/African American, Hispanic/Latino, and American Indian/Alaska Native students; and improve or maintain the percentage of students scoring a 3 or higher (out of 5) on AP exams, or achieve 70 percent proficiency or higher.
Canton High School met all three criteria, with total AP enrollment rising from 172 to 221 to 236 over the last three years. This year, according to Folan, there are 264 students taking at least one AP course — which is 57 percent of all grade 11 and 12 students — and the school will administer 553 exams in May.
In terms of exam performance, in 2016, 70.8 percent of all CHS AP students achieved a score of 3 or higher, up from 65.2 percent in 2015. Folan said he is very proud of that success rate, although he acknowledged that the school has a "long way to go" in order to reach the school goal of 80 percent proficiency or higher.
Still, Folan is thrilled with the school's recent gains and acknowledged that the AP District Honor Roll was one distinction that he was determined to achieve. "This national recognition reflects our commitment to our beliefs and our core values, especially academic excellence and rigor for all students and continuous improvement," he said.
Since moving away from course prerequisites at the end of 2014, Folan said the school has made a conscious effort to promote AP courses to the broader student body and to encourage students to push themselves to greater heights.
"When we talk about course selection [in the early spring], we talk to our students about really stretching themselves and challenging themselves," he said. "We feel like AP classes aren't just for those that have accomplished the highest level at school. We really believe that the highest level can be achieved by anyone who is passionate about the subject and has the work ethic and willingness to learn."
At the same time, Folan stressed that the expectations and the rigors of AP coursework have not changed — the curricula and exams are designed by the College Board, and CHS students are no longer allowed to opt out of the AP exam. So the fact that more students are now taking and succeeding in AP classes is a well-deserved honor and "really speaks to the students and staff responding to higher expectations," he said.
Folan said the AP teachers at Canton High have embraced this new inclusive model and have shown a commitment to staying "current and incredibly skilled" through ongoing professional development and collaboration with colleagues in other school districts.
And it's not just AP teachers, but all teachers and staff at CHS and across the Canton school district that had a hand in this award, he said.
"I do think that over the past number of years, there's been a great emphasis from the elementary and middle school levels in preparing these students to reach for a high level of achievement, and I think that mindset is instilled in them from an early age," he said.
Overall, Folan said he "couldn't be prouder" of the students and staff for their efforts over the past three years. "I think it's incredibly remarkable," he said. "We've really shown a commitment to improving our [AP] participation and our scores and being better instructors, and I'm so pleased that so many students have taken up the challenge and that they've really responded."
Short URL: http://www.thecantoncitizen.com/?p=35269
Posted by
Jay Turner
on Jan 20 2017. Filed under
News
,
Schools
. Both comments and pings are currently closed.