Happy Holidays from the Canton Citizen
By
Canton Citizen
The staff at the Canton Citizen would like to wish all Canton residents and businesses a very merry holiday season and a happy New Year. The December 24 edition is on sale now at newsstands and the website will be updated on Saturday, December 26.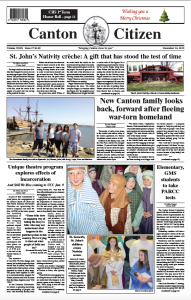 Highlights of this week's issue include:
* Journey from Syria: An exclusive feature article detailing the Aboukhater family's journey from war-torn Syria to Canton
* St. John's Nativity creche: A celebration of a Canton holiday landmark and its creator, Thomas Withee
* Canton High School 1st Term Honor Roll
* Four-Legged Friends: Susan Scheide writes about caring for aging pets
Also, don't forget to check out our many weekly features, including:
* Man About Canton by Joe DeFelice
* Agent's Corner from Canton Veterans Agent Tony Andreotti
* Little Bit of Laurie — weekly recipe column by Laurie Vachon
* Canton Police Log, In the Spotlight, and much more.
Click here to order your subscription today, or check out our new digital edition, the e-Citizen.
Short URL: http://www.thecantoncitizen.com/?p=31858

Posted by
Canton Citizen
on Dec 24 2015. Filed under
Featured Content
. Both comments and pings are currently closed.