Box of family keepsakes finds its way home to Canton
By
Mary Ann Price
Jane Tardanico is in the process of moving from one house to another and has some of her possessions in storage, including the yearbook that belongs to her older brother, Paul Hannon, a member of the Canton High School Class of 1950. But she doesn't need to pull out the yearbook to look up the words that appear under her brother's photo. She knows them by heart: "Admired by all — good natured Paul."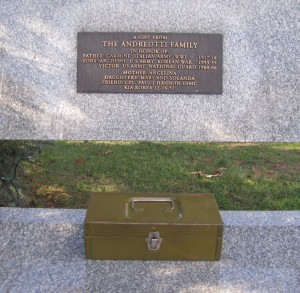 Tardanico recalls hearing people talk about Paul in positive terms as she was growing up. "He was exceptionally well liked by so many people," she said of the brother who was 9 years old when she was born. "He was a wonderful big brother. I was fortunate."
Paul taught her how to ride a bike, talked to her about safety issues, was kind and fun, and took her on dates.
At Canton High School, Paul was an outstanding athlete and was awarded a football and baseball scholarship to the University of New Hampshire. His sister doesn't know what he majored in, or what career interests he had, but she thinks that he may have considered teaching and coaching. However, after the first semester of his sophomore year, he enlisted in the Marine Corps. Tardanico accompanied her parents to the old Boston City Hall to watch Paul and others join the military on February 1, 1952.
Tardanico has clear memories of that day. She also remembers another day, in December of 1952, when she was in sixth grade at the Eliot School. She got off the bus after school and went into her home on Everett Street. Her father was home, which was unusual, and both of her parents were upset as they read a telegram. Tardanico then learned that Paul had been killed in action in Korea on December 16, 1952 — 63 years ago yesterday.
Her mother, Bea Hannon, saved that telegram in a small green metal box, along with a letter to the family stating that Paul would posthumously be awarded the Purple Heart as well as other personal papers. After her mother passed away, Tardanico kept the box in a bureau drawer in her home. When she and her husband, Charlie, decided to sell their home this year, they hired a firm to handle an estate sale for them. The company sold the bureau, with the green box still tucked inside a drawer.
In September, Tardanico looked for the box and could not find it, but figured that she had placed it in storage with other items. So she was very surprised when Tony Andreotti, Canton's veterans agent, contacted her to tell her that two Canton women, Andrea Comeau and Kathy Fox-Alfano, had brought the box to him after Fox-Alfano came across it.
Fox-Alfano and her husband, Paul, frequently go to an antique and vintage store in Wareham called Not Your Average Antiques. "One of the things they do is clean out homes," Fox-Alfano explained in an email. "At one of the houses, the box was left. When the owner, Chris Lavelle, and his assistant, Jayne, saw what it was and that the owner was from Canton, they gave it to us. I then brought it to [Andreotti] in hopes that he could find the remaining family. I was glad to help."
It turns out that Andreotti not only knew Paul Hannon; they happened to be close friends growing up. Andreotti, who also went on to serve in Korea, was a year younger than Paul and the two friends played football and baseball together at Canton High School. In the fall of 1949, Paul was co-captain of the undefeated CHS football team. The following season, Andreotti was co-captain of a team that won 16 games in a row before losing to Stoughton. Canton resident Charlie Stevenson, now 101, coached both teams.
Hannon and Andreotti were also both left-handed. When Hannon left for UNH, Andreotti used his baseball glove during the spring of 1951. "He was very honest, trustworthy and righteous," Andreotti said of Hannon. "He never used foul words. When you were around him, you didn't say it. You didn't tell a dirty joke or talk about anyone."
Last Saturday, the Tardanicos came to Canton to retrieve the green box. Andreotti also took them to Veterans Memorial Park at Canton Corner Cemetery, where Hannon is memorialized on a monument to Korean War casualties and on a bench that was purchased by the Andreotti family.
Tardanico is grateful to Fox-Alfano. "Someone very kind and thoughtful and willing to take the time to bring it to Canton," she said.
That little metal box is even more meaningful to her now. "It's taken the trip it needed to take," she said. "It's gone full circle, back to Canton."
Short URL: http://www.thecantoncitizen.com/?p=31812

Posted by
Mary Ann Price
on Dec 18 2015. Filed under
Features
. Both comments and pings are currently closed.