Former conservation agent penalized for ethics violations
By
Jay Turner
Former Canton Conservation Agent Robert Murphy has been ordered to pay $10,000 in civil penalties for multiple violations of the conflict of interest law while he was employed by the town, the State Ethics Commission announced earlier this week.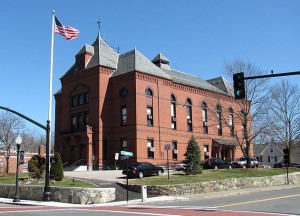 In its decision, issued October 27, the commission found that Murphy violated section 17(a) of the conflict of interest law, which prohibits a municipal employee from receiving compensation for matters in which the municipality is a party or has a "direct and substantial interest," and section 23(b)(3), which prohibits an employee from acting in a manner that would create an appearance of a conflict of interest. The adjudicatory proceeding was initiated by the commission's Enforcement Division through the issuance of an "order to show cause" in July 2014.
The violations stem from Murphy's role as operator of a private engineering firm, M&M Engineering, that provided paid services to several Canton projects from 2010 to 2012. During this period, M&M Engineering filed eight Canton permit applications and plans with the ConCom, and Murphy received compensation for the work he performed on behalf of M&M Engineering.
At the same time, Murphy, in his capacity as ConCom consultant, reviewed each of those permit applications and made recommendations to the ConCom about whether to approve them. Murphy, according to the decision, "did not disclose to the Board of Selectmen or the ConCom, either orally or in writing, his relationship with M&M Engineering."
The ConCom subsequently learned of Murphy's connection to M&M Engineering in August 2012 when it was discovered that a plan had been twice submitted to the zoning board, once under Danena, Inc. — the company through which Murphy provided consulting services to the town — and then a second time with "M&M Engineering" on it.
The details of Murphy's involvement with M&M Engineering were first reported by the Canton Citizen in February 2013.
ConCom members were reportedly shocked and dismayed when they first learned of Murphy's alleged interest in M&M — to the point that four of the seven members were prepared to resign in protest unless Murphy either stepped down or was ordered to do so by the selectmen.
ConCom members ultimately voted 5-2 to request Murphy's resignation, and they reaffirmed their position a week later in what sources say was a highly charged meeting with selectmen.
The joint meeting, which was attended by Murphy, eventually ended in a stalemate with selectmen voting 2-2-1 on the question of whether to dismiss the longtime agent. The two sides had planned to reconvene a few days later; however, selectmen called off the meeting after being told that Murphy was planning to resign. Murphy, however, reportedly changed his mind, and a few weeks later, selectmen voted unanimously to terminate the town's contract with Murphy through Danena Inc.
Murphy, according to the decision, was found to have violated section 17(a) when he "received compensation from someone other than the town in relation to particular matters in which the town was a party and had a direct and substantial interest."
Murphy also violated section 23(b)(3), according to the decision, when, as Canton's ConCom consultant, he "knowingly or with reason to know, reviewed and acted on applications and plans submitted by M&M Engineering, on behalf of its private clients, while he was its operator."
The decision states, "A reasonable person having knowledge of the facts that some of those applications and plans Murphy was reviewing as the Conservation Commission consultant were prepared by a company he operated, that he had hired subcontractors to do some of that work, that he personally did some of the work on those applications and plans, that the subcontractors he hired on behalf of M&M Engineering presented the applications and plans to the Conservation Commission at meetings that he attended as its consultant and on which he made recommendations, and that he was paid privately to do so, would conclude that M&M Engineering could unduly enjoy his favor in the performance of his official duties."
The commission ordered that Murphy pay a $5,000 civil penalty for violating section 17(a) and a $5,000 civil penalty for violating section 23(b)(3). He has 30 days to pay the civil penalty or file an appeal with the Superior Court.
Short URL: http://www.thecantoncitizen.com/?p=31268
Posted by
Jay Turner
on Oct 29 2015. Filed under
News
,
Town Government
. Both comments and pings are currently closed.