Downtown businesses host inaugural Family Fall Fest
By
Jay Turner
This coming Saturday, October 24, a group of downtown merchants and neighbors are bringing the fun and celebration back to Canton Center with a first-of-its-kind "Family Fall Fest" and fundraiser.
Although not to the scale of the town-sponsored block parties that were held every September from 2000 to 2010, this weekend's inaugural event will serve as an open house of sorts for the participating businesses while also offering up a mix of free food, entertainment and kid-friendly activities, such as face-painting and a trick-or-treat trivia hunt. A variety of gift baskets will also be raffled off, with all proceeds directly benefitting the Canton High School Athletic Booster Club.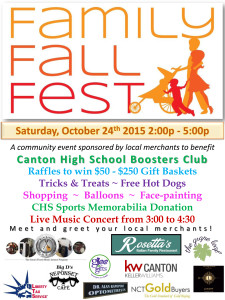 "This is a community-based event," explained Carlo Gaita, owner of Rosetta's Italian Restaurant and one of the organizers of the festival. "It's a grassroots effort for a hometown cause."
Gaita, an affable ex-Marine who opened his restaurant last February at 521 Washington Street, said he was approached a few weeks ago by another downtown business owner, Bernie "Senchant" Birgenheier of Senchant's Art of Teaching, about doing some type of community event, and soon other area businesses joined in and the idea for the fall festival was born.
"I think the businesses here are much like the residents of the town — they're neighborly, they're friendly," Gaita said. "They want to work together and they want to give back to the community."
Birgenheier said he had actually gotten the idea from Glee Gifts owner Ann Foley-Collins, who previously operated stores in Canton and Mansfield and now runs a successful "boutique on wheels." Together they were able to recruit eight other businesses, and they settled on a festival format with the goal of perhaps turning it into an annual tradition if all goes well on Saturday.
"We really believe in building a strong community, and we're always trying to partner up with other businesses," Birgenheier said. "We figured, let's just have our own little fall festival and maybe this is something we can do every year if it's successful."
A renowned guitarist and composer who has toured nationally with several popular acts, Birgenheier opened Senchant's Art of Teaching in January 2014 and has been encouraged by the growth of the downtown area in the nearly two years since.
"When I opened [Senchant's], it was really kind of a ghost town in this neck of the woods," he said, "but other businesses started moving in around the same time, and now it's starting to bustle a little bit."
As part of the festivities, Birgenheier plans to host a live concert in his studio from 3 to 4:30 p.m. Patrons will also be invited to visit each participating business, where there will be free samples, promos, and treat bags for the children. "Everyone's going to do something a little different to showcase each business," said Gaita.
Guests will also receive a trivia card that includes one question about each of the businesses. After completing the card, they can stop by the CHS Booster Club raffle table for a balloon, a free hot dog, and a chance to win gift baskets valued at $50 to $250 each.
Both Gaita and Birgenheier said they are looking forward to meeting new people this weekend and forging stronger community ties. More importantly, they are excited to give back to a worthy cause such as the CHS boosters.
"We wanted to raise as much money as possible and also awareness for the boosters," said Gaita, who also plans to donate a large collection of CHS sports memorabilia from the former restaurant tenant to the school.
Added Birgenheier, "We are all very excited and looking forward to making Canton Center a strong area and being a positive force in our community."
CHS Athletic Director Danny Erickson said the booster club and the CHS athletics community as a whole are "super excited" that local businesses want to help out their program.
"There's a lot of buzz around CHS athletics with our new logo and the success of our fall teams," Erickson said. "Our booster club had our best year when it comes to corporate sponsorships — we've got 12 banners down at the field, all representing donations of at least $1,000, and this is just another example of that. We're thrilled to have these local businesses support us, and we hope the community will in turn help support our local businesses."
The Canton Family Fun Fest will run from 2-5 p.m. on the portion of Washington Street spanning from the Bank of Canton to Big D's Neponset Café (roughly from Church to Neponset streets). In addition to Rosetta's, Senchant's Art of Teaching and Glee Gifts, participating businesses include: Dr. Alan Rapoport – Optometrist, Keller Williams, NCT Gold Buyers, The Grape Leaf, Big D's Neponset Café, Luxury Leg Wear, and Liberty Tax Service.
Short URL: http://www.thecantoncitizen.com/?p=31175
Posted by
Jay Turner
on Oct 22 2015. Filed under
Business
. Both comments and pings are currently closed.