Legendary sportswriter Bob Ryan to visit library
By
Canton Citizen
On Wednesday, October 7, at 7 p.m., legendary Boston sportswriter Bob Ryan will visit the Canton Public Library to talk all things sports as he introduces his new book, Scribe: My Life in Sports.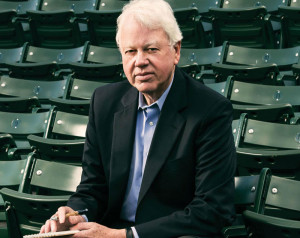 For area sport's fans, Ryan needs no introduction. He has been writing for the Boston Globe since 1968, covering all of Boston's sports teams, and is a regular panelist on ESPN's Sunday morning roundtable "The Sports Reporters." His new book traces his early love of sports, experiences as a dedicated fan, and human observations behind pivotal sports moments.
Ryan has covered 21 NBA Finals, 29 Final Fours, and 11 Olympics; 11 World Series and innumerable baseball playoff series; 11 Super Bowls; five BCS championship games; eight U.S. Open Championships; six British Opens; four Ryder Cups; three Masters; two PGA championships, the World Basketball Championships in Toronto, Athens, Indianapolis, Tokyo, and numerous major college football bowl games. He is the only person to cover the one-and-only Dream Team from the first bounce of the ball in the La Jolla to the medal ceremony in Barcelona.
"Everything, and everybody, has a story. True greatness comes from those who can tell a story, and that is Bob Ryan," said Basketball Hall of Famer Bill Walton, who introduced Ryan as he received the AP's Red Smith Award in June. Come here the stories live at the Canton Public Library!
Bob Ryan is one of America's most respected sports reporters, writers, and columnists. He retired from daily work at the Boston Globe in 2012 after some 45 years at the paper. He is the author of many books, including Forty-Eight Minutes: A Night in the Life of the NBA, The Four Seasons and The Boston Celtics: The History, Legends, and Images of America's Most Celebrated Team. He lives in Hingham.
This event is free and open to the public. An author signing will follow, and books will be available for purchase through Haley Booksellers. Reservations are not necessary, but guests are asked to come early. Refreshments will be served. For more information, contact Carolyn Elkort, community outreach librarian, at 781-821-5027 ext. 126.
Short URL: http://www.thecantoncitizen.com/?p=30947

Posted by
Canton Citizen
on Oct 1 2015. Filed under
Uncategorized
. Both comments and pings are currently closed.