Note to Our Readers
By
Canton Citizen
Dear Citizen readers:
We hope you enjoyed your complimentary issue of the Canton Citizen, which was mailed to every Canton residence this week. Now through October 31, you can get 52 issues for just $25* — a savings of $10! Click here to place your order today.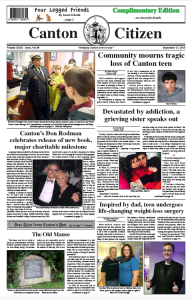 Prefer a digital platform? Consider a subscription to our new e-publication. Easily accessible and identical to the print edition, the e-Citizen is also on sale through October 31 for just $10 for 1 year.
*Offer available to new subscribers only
Important notice: The Canton Citizen frequently receives inquiries from readers regarding the availability of content on our website. Often the reader has seen it in the print edition and would like to access it online and/or share it with others. While we genuinely appreciate the interest, the Citizen is and always has been a weekly newspaper. Our website, although free to use, was designed as a promotional and informational tool for potential subscribers and advertisers and only includes a limited selection of stories as well as excerpts of popular content.
Short URL: http://www.thecantoncitizen.com/?p=30839

Posted by
Canton Citizen
on Sep 18 2015. Filed under
Uncategorized
. Both comments and pings are currently closed.