Wegmans Westwood announces management team
By
Canton Citizen
Open employment interviews to be held Sept. 10-12 
Wegmans Food Markets earlier this week announced the management team of its newest store, located at 169 University Avenue in Westwood. The team has nearly 120 combined years of experience at Wegmans and includes the store manager, executive chef, pharmacy manager, and area managers who will each oversee various departments within the store.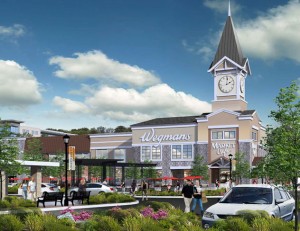 The Westwood store celebrates its grand opening on Sunday, October 11, and is currently hiring and training new employees for a variety of part-time customer service, culinary, and restaurant positions.
Wegmans will host open interviews from 10 a.m. to 6 p.m. Thursday, September 10, through Saturday, September 12, at its 685 Canton Street employment office in Westwood.
"We are proud to introduce the members of our management team to the Westwood community," said Marybeth Stewart, human resources manager of Wegmans' New England division. "Together, they bring a long track record of commitment to incredible customer service and the skills to provide an outstanding shopping experience. We encourage those who are interested in joining our team to apply, attend our open interviews in September, or visit us online to learn more."
The management team for Wegmans Westwood is led by store manager Dave Orlovsky, a Shrewsbury resident who has been a part of the Wegmans family for more than 25 years. He first joined as a customer service employee in the prepared foods department in Johnson City, New York, and later became the produce manager of the Elmira, NY store. He rose to assistant store manager and then store manager before moving to Massachusetts in 2013 to manage the Wegmans in Northborough. Two years later, he was given the opportunity to open and manage the Westwood location and its 550 employees.
Joining as executive chef is Brendan Newhart, a Hopedale resident who began his career with Wegmans five years ago as a team leader in Rochester, NY. In 2011, he relocated to New England as a sous chef at the Northborough store. Chef Newhart rose through the ranks and is now the executive chef who will oversee Wegmans' prepared foods in Westwood. With more than 16 years of restaurant and hotel experience, along with a degree in culinary arts and service management, Newhart will lead a team of over 140 culinary professionals.
Rounding out the Wegmans Westwood management team is Frank Fields, perishable area manager; Alicia Elliott, service area manager; Lisa Landry, merchandising area manager; and Cassie Lawatsch, pharmacy area manager.
Fields, a resident of Providence, began working at Wegmans in 2000 and has served in a number of roles, including service team leader, restaurant manager, and service area manager.
Elliott resides in Marlborough and has been with Wegmans since 1980. She's learned the business and been promoted from within by working in several positions, including produce manager, corporate accounting, front end manager, and non-licensed pharmacy manager.
Landry, who now lives in Norwood, began working for Wegmans in 1985 while in high school and since then has enjoyed a variety of positions, including cheese shop team leader, bakery team leader, night manager, and front end manager. She also has experience working as an operations coordinator in the corporate office.
Lawatsch, PharmD, graduated from Albany College of Pharmacy and Health Sciences in 2013 and now lives in Boston. A Wegmans employee since 2006, she began as a pharmacy technician and advanced into management.
Wegmans Westwood is a 122,000-square-foot supermarket that includes a Market Café with indoor and outdoor seating for nearly 300, as well as a complete wine and beer shop. On Monday, the store launched www.wegmans.com/westwood, which offers store details, Wegmans Shoppers Club sign up, and it will include blog posts by the Westwood management team.
Short URL: http://www.thecantoncitizen.com/?p=30658

Posted by
Canton Citizen
on Sep 4 2015. Filed under
Business
. Both comments and pings are currently closed.