School leaders outline plans for hockey season
By
Mike Berger
School Committee Chairman Bob Golledge and School Business Manager Barry Nectow both believe the current school budget will be able to absorb the roughly $15,000 in extra ice time costs that will be needed to operate the CHS ice hockey program this year in the wake of the roof collapse at the Metropolis Skating Rink last winter.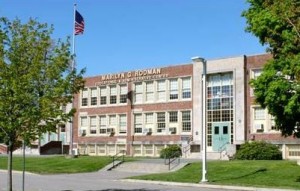 "It won't be easy, but I think we can do it," Golledge said after the August 20 School Committee meeting.
CHS Athletic Director Danny Erickson said that he and hockey coaches Brian Shuman (boys) and Dennis Aldrich (girls) have contacted several local rinks in an effort to secure ice time for the upcoming winter season. Erickson said they are hoping to maintain the same amount of ice time for both programs while using rinks that are less than 10 miles from CHS and limiting early morning practices.
As of August 20, the two rinks with the available ice times are the Canton Sportsplex and the Boch Ice Center in Dedham. For both programs it appears that some practices will be held at 6 a.m., some at 3 p.m., and a few at 9 p.m. The boys and girls varsity teams will practice an average of four hours per week and the boys JV team will average two hours of practice time per week.
Parents would be responsible for transportation to all practices while the athletic department would provide transportation to all home and away games. Most of the varsity games this year will be at away rinks. Likely home sites include the Canton Sportsplex, the Shea Skating Rink in Quincy and the DCR Bajko Memorial Rink in Hyde Park. The boys JV team will play on Sundays at the Foxboro Sports Center.
"Our goal this year is to make a great experience for all hockey players and hopefully it will be better [next year]," said Erickson.
In other news, Nectow reported that the newly revamped bus schedules are ready and will be published this week (see pages 6-8). Bus passes, which are required to board a bus, should also be mailed home this week, Nectow said.
For those students who missed the June registration deadline, the next time to register for bus transportation will be October 1. Golledge and Nectow asked all parents to show patience with the buses in the first few weeks of the school year.
In other news Thursday night, the School Committee approved Nectow's request for a 2 percent rental fee increase for use of school buildings and gymnasiums. Nectow also reported that the CHS tennis court renovation project had to be delayed a few weeks due to problems with soil conditions and a delay by subcontractors. The new estimated completion date is September 30.
Nectow was also pleased to report that the bids for the Hansen School classroom addition — approved by voters in June via a debt-exclusion override — came in roughly 10 percent ($400,000) less than originally projected. The School Department will now apply for building permits with construction set to begin in late September …
See this week's Canton Citizen for more highlights from the August 20 School Committee meeting. Not a subscriber? Click here to order your subscription today.
Short URL: http://www.thecantoncitizen.com/?p=30592

Posted by
Mike Berger
on Aug 27 2015. Filed under
News
,
Schools
. Both comments and pings are currently closed.