Independent auditor: Town in excellent financial shape
By
Mike Berger
An independent auditor confirmed what bond rating agency Standard & Poor's recently told the town's finance director — that the town is in excellent financial shape and is following sound financial practices, which has led to a premium bond rating of AAA and much lower borrowing costs.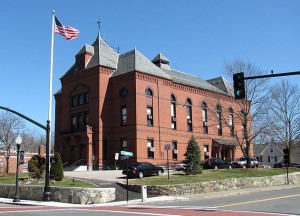 Tony Roselli and Paul Gargano of Roselli, Clark and Associates went through the town's financial records of 2014 and concluded that Canton is in good and stable condition and found no material deficiencies in the audit.
At Tuesday night's Board of Selectmen's meeting, the auditors commended Finance Director Jim Murgia and the Finance Committee for continuing to increase the town's cash reserves for several consecutive years. The state average for a community's cash reserve is 8 percent of its budget. Currently, Canton has a cash reserve of 13 percent.
"That is an excellent ratio," said Roselli. "You should be happy about that. You are managing the town budget well. The debt ratio is in the top echelon and your ability to pay back money is healthy."
Roselli and Gargano also commended town officials for taking steps to improve cash handling procedures and also praised the town for nearing adoption of a formal town employee fraud policy. Gargano analyzed at random the town clerk's and CHS Athletic Department's cash handling policies and found them in good order. Gargano recommended an internal security procedure for the CHS Athletic Department.
Roselli said the town should seriously consider hiring a security software specialist to protect the town from hackers and foreign entities that may attempt to breach the town system. He said more and more towns are becoming victims of hackers, who often demand ransom money in order to unlock their networks. Roselli estimated the cost of a specialist at $15,000. The recommendation for further improvements were minor and many have been instituted, according to Town Accountant Kathy Butters.
Selectmen praised the work of Murgia, Butters, the Finance Department staff, and the Finance Committee for their efforts leading to the excellent audit report. Roselli said the town has undertaken for the ninth consecutive year a Comprehensive Annual Financial Report (CAFR), which Murgia said has led to the high bond rating from Standard & Poor's …
See this week's Canton Citizen for more highlights from the August 11 selectmen's meeting. Not a subscriber? Click here to order your subscription today.
Short URL: http://www.thecantoncitizen.com/?p=30437

Posted by
Mike Berger
on Aug 13 2015. Filed under
News
,
Schools
,
Town Government
. Both comments and pings are currently closed.