Interim supt: Canton in control of curriculum
By
Mike Berger
Canton School Committee members were relieved to hear from interim Superintendent Jen Henderson that the state Department of Elementary and Secondary Education (DESE) is not forcing Canton to change its methods of teaching and that the school system will still have full control of its curriculum.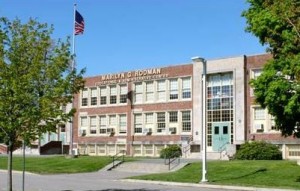 Essentially, the state is mandating what students should master on the MCAS tests, while the community retains its control of curriculum, lesson plans, and teaching methods.
That was the key takeaway from a presentation by Henderson and acting Curriculum Director Jayne Moore delivered last Monday, July 13, in the CHS library. The committee had scheduled the informational session in order to learn more about the school system's implementation of Common Core standards for English language arts (ELA) and math — a source of concern and frustration among many Canton parents.
At the end of last week's meeting, several School Committee members, including Chairman Bob Golledge and Reuki Schutt, commended Henderson and Moore for their presentations and suggested that they be posted on the Canton Public Schools website. This was the first meeting for Henderson and Moore in their new positions, which took effect July 1, the day that former Superintendent Jeff Granatino left for his new post in Marshfield. Henderson is the former curriculum director and Moore previously served as the assistant principal at the Kennedy School.
Golledge said the presentation will be repeated for parents when school resumes in September. Five parents attended the meeting last week.
Currently, the big question facing state leaders is whether to stick with the MCAS test or to replace it with the computer-based PARCC (Partnership for Assessment of Readiness for College & Careers) test, which has been adopted in 11 states and the District of Columbia. The DESE recently held a series of public forums on the PARCC assessment and is expected to make a decision on the matter this fall.
Henderson said both tests have garnered mixed reviews. However, until a directive is issued from the state, she said that Canton will continue to use the MCAS test as its form of assessment. She added that the district has the infrastructure to administer either test.
According to Henderson, the DESE has set standards that define expectations for each grade level in every content area. Standards are established to provide a universal expectation across all communities for what students should know and be able to do at the end of each grade level.
"The state does not dictate how students reach those standards," said Henderson, who added, "These standards do not dictate curriculum or teaching methods."
She said the Massachusetts Frameworks incorporating Common Core focus on what is most essential; however, the frameworks do not describe all that can or should be taught. "A great deal is left to the teachers and curriculum developers in each school system," she said.
Henderson said the results from the MCAS tests taken in the spring have started to come in, although they cannot be publicly released until September. Department heads are going over the results now to develop a curriculum to improve student learning. Henderson defined a curriculum as a plan for day-to-day teaching with a goal of moving students toward the standards at the end of the year.
In their presentation, Henderson and Moore also discussed the evolution of the Massachusetts Frameworks, which were established following the enactment of the state Education Reform Act of 1993. According to the DESE, "What is important to remember is that each of the curriculum frameworks will always be considered as works in progress, and we will continue to refine them to strengthen them and to keep them current. Local communities will use the frameworks to develop more specific curriculum. The Department of Elementary and Secondary Education will base the new student assessment program on the frameworks."
Frameworks for ELA and math have been in place since the 1990s and have been updated regularly, most recently in 2011. Social studies frameworks, on the other hand, were last updated in 2003 while science and technology/engineering frameworks were last updated in 2006.
In 2008-2009, Massachusetts joined with several other states to develop national standards, and the resulting Common Core standards for math and ELA were adopted in 2010. The state is now looking at updating its standards in science and social studies.
This upcoming school year, Henderson said the Canton Public Schools will focus on foundation skills in math, literacy, and in particular on informational texts in content areas at the middle and high schools.
"Everything relates to literacy, including writing skills in math," she said.
Moore said instructional methods are changing as teachers can use various methods to achieve a desired result. As an example, she said students don't have to memorize multiplication facts but they need to understand why they work.
Henderson added that teachers have the flexibility to spend more time on a subject if students need more time to understand the material.
Summing up, Henderson told the committee, "We are in control of the curriculum. We are strong enough to pull our weight on what should be taught."
Short URL: http://www.thecantoncitizen.com/?p=30225

Posted by
Mike Berger
on Jul 23 2015. Filed under
News
,
Schools
. Both comments and pings are currently closed.