Canton 'swatting' victim recalls frightening ordeal
By
Jay Turner
The house is surrounded. Come out with your hands up.
It is the stuff of TV and movies, but for a few tense moments last Tuesday evening, July 7, it was reality for Hubbard Street resident Marty Herman, who found himself as the unwitting victim of a telephone hoax known as "swatting."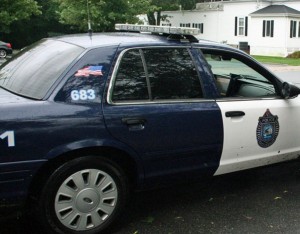 Equally as dangerous as it is costly, swatting, according to the FBI, involves the false reporting of an emergency with the goal of drawing a heavy police presence — such as a SWAT team — to a home or business, either as a prank or as a means of getting revenge. The perpetrators, who can be hundreds or even thousands of miles away, utilize Caller ID "spoofing" software to pose as the victim and report serious crimes in progress, such as hostage situations, armed invasions, and homicides.
In Herman's case, someone had called the Canton Police Department alleging that an individual at his address had shot his father and was holding his mother hostage. The call was convincing enough to send CPD officers and a regional SWAT unit racing to the scene, and upon arrival they quickly formed a perimeter around the home and made contact with Herman via telephone.
"It was a really bizarre situation," said Herman, a retired billiards pro who happened to be taping his instructional web show, Herman University, when the call came in from police.
Herman said the police informed him that his house was surrounded and then began to ask him questions about his parents, who have both been deceased for several years. He said they asked him several additional questions, none of which seemed to pertain to him personally, and then instructed him to exit his home with his hands in the air.
"Once I went out with my hands up and they all had their guns aimed at me, I went over to one of the sergeants or detectives," he said. "Then they came in and [searched] my house to make sure nobody was actually here. That was a little uncomfortable, too. But I guess they had to do what they had to do, and they really followed through on it completely."
Reflecting on the ordeal a few days later, Herman said he felt badly that law enforcement resources were wasted, but he also felt that police may have overreacted, especially considering the information they had already gathered.
"There wasn't one bit of information they got over the phone that was accurate," he said. "So to throw out a full SWAT team and they're aiming guns at me, I don't know if that's actually appropriate."
"They were all hiding in position," he added. "I could see the rifles and they were aiming them directly at me. That was the time I was thinking to myself, 'I could actually lose my life right now by somebody just making a mistake.'"
In a statement emailed to the Citizen, Canton Police Chief Ken Berkowitz defended the response by police, although he could see how "being on the outside looking in, one may question why officers would have their weapons drawn."
"However, until we can rule out that it is not a hostage situation, an ambush or set up, or a murder, we need to treat it as a credible threat," he said. "This safeguards the public as well as that of the responding officer. I commend the officers for their mediated response to a very serious and complex call for service."
According to the FBI, swatting poses a risk to both the officers and the victims, and there have been cases where both have been injured, including instances where the victim has suffered a mild heart attack.
As noted in a profile on swatting on fbi.gov, "The victims are scared and taken by surprise. Law enforcement personnel, meanwhile, rush to the scene of a swatting incident on high alert. They believe they have a violent subject to apprehend or an innocent victim to rescue. It's a dangerous situation any way you look at it."
Even more alarming is the frequency of swatting incidents, which now number in the hundreds per year, according to FBI estimates. In the past week alone, there were two such cases in southern Maine as well as one in New Hampshire and another in Michigan. Several Hollywood celebrities have also been "swatted," and the trend is growing in the online gaming world among those who live-stream their games.
There are even YouTube compilations showing unsuspecting gamers being raided by SWAT teams, and the fact that Herman happened to be live-streaming during last week's incident suggests that he may not have been just a random target.
For Herman's part, he does not believe that it was anything more than a case of misfortune, and he is far more concerned with catching the criminal than with digging for a motive.
"I was hoping by now that they would have caught the fellow," he said. "But I do get the feeling that they have some kind of lead and they're hunting it down."
Unfortunately, as of Friday, July 10, CPD Deputy Chief Helena Rafferty said they were "not any closer" to identifying a suspect in the July 7 incident.
"We have not yet identified anyone but have applied for the necessary subpoenas to see where this takes us," she said. "We're still working on it, but things like this take time."
In the meantime, Rafferty said the state legislature was scheduled to discuss a bill this week that would make swatting a crime punishable by up to two and a half years in jail, or up to five years if a person sustains a bodily injury as a result of the hoax.
Currently, there is no state statute that applies to swatting, although perpetrators can still be prosecuted under federal statutes, including crimes for conspiracy and fraud.
"As you can imagine, it's a very dangerous thing from a lot of different perspectives, and there needs to be a big ramification for doing it," said Rafferty.
Short URL: http://www.thecantoncitizen.com/?p=30167
Posted by
Jay Turner
on Jul 17 2015. Filed under
News
,
Police & Fire
. Both comments and pings are currently closed.