'Black Lives Matter' sign ignites lively debate
By
Jay Turner
Black Lives Matter — the Twitter hashtag that became a call to action and eventually a fully realized movement with 23 chapters across the U.S. and abroad — recently became the talk of the town in Canton after a sign bearing those three familiar words turned up on a downtown street corner last week.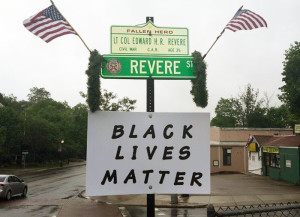 Within hours of appearing at the corner of Revere and Washington streets last Sunday, June 21, the simple, rectangular sign had become a trending topic on the public Facebook group "Everything Canton, MA," where a lively and at times heated debate unfolded among current and former residents that lasted for several days and generated hundreds of comments.
"Don't ALL lives matter?" asked one individual, echoing a common refrain among dozens of commenters. Others derided the sign as racist and incendiary, and some suggested it was not appropriate for a town like Canton.
The sign itself, meanwhile, was tampered with twice over the span of two days, and the man responsible for posting it, Canton Veterans Agent Tony Andreotti, fielded at least one angry phone call and was made aware of several other complaints that had been directed at the sign and its perceived message.
"I'm a little bit shocked by all of this negativity because I usually don't see it," said Andreotti, who grew up in Canton at a time when residents were far less forgiving of individual differences. "I look at all the town departments and I see how much respect that all of them pay to anybody, black or white. That's what I see."
A former town selectman and a Korean War veteran, Andreotti said he had posted the sign for a very specific reason — to honor the nine victims of the June 17 mass shooting at Emanuel African Methodist Episcopal Church in Charleston, South Carolina. He said he chose Sunday to post it because "that was a church day, and they died at church."
Equally as significant, according to Andreotti, was the placement of the sign: right underneath the memorial sign honoring Lt. Col. Edward H. R. Revere — grandson of famed Patriot Paul Revere — who died on the battlefield of Antietam at age 35 in 1862. Edward Revere is one of 30 Canton residents who perished in the Civil War, and Andreotti made sure that all 30 of them, along with the 47 other war dead from Canton, would be permanently memorialized through his "Fallen Heroes" street sign program that he launched more than a decade ago.
Andreotti said it was this same desire to commemorate lives lost that led him to the idea of the "black lives matter" sign.
"I wanted to make a point that black lives mattered to these Civil War guys," he explained. "They left their homes and went into battle for black lives and black freedom. They went to the war and died in the war for black lives. And to think that we haven't gone that far in 150 years really bothered me."
Andreotti said he initially felt good about what he had done and had planned to keep the sign up until all nine funerals had been held. However, on Monday he was contacted by a town department head, who told him that the sign constituted a political message and therefore had to be moved to the public kiosk at the corner of Washington and Bolivar streets. He also began to get the sense that his message was being misinterpreted and ultimately decided to remove it after just two days.
"The words went with the soldier (Edward Revere), and this is what people didn't get," he said. "I think if they knew what the motive was or what the point I was trying to make was — that 30 people had died in the Civil War for black lives — I think they would have seen it differently."
Regarding the broader Black Lives Matter movement, which has organized protests in cities across the U.S., Andreotti said he knew little about it and was genuinely surprised to learn of the connection that some have made between the slogan and anti-police sentiment.
"It came out when emotions on both sides were high [in the wake of the shooting death of Michael Brown in Ferguson, Missouri]," confirmed Canton Police Chief Ken Berkowitz. "And people on the fringes of the slogan have engaged in anti-police rhetoric."
Berkowitz said he did not hear any of his officers commenting on Andreotti's sign, although he did question the strategy while noting that he is "not in favor of posting any signs, no matter what the message is."
He said he would much rather focus on more constructive and inclusive activities, such as the June 29 vigil for peace and tolerance he helped organize in front of town hall. The vigil, titled "Every Life Counts," honored lives lost in Charleston as well as recent police deaths and those who have lost their battle with drug addiction.
"Especially in this day and age, I think we need to be thinking of things that are inclusive," Berkowitz said. "I think we've got to be embracing everybody's differences."
Not everybody felt that the sign was counterproductive, however. Ernst Guerrier, a Canton resident and attorney who Berkowitz jokingly refers to as his "partner in crime" on matters of race relations and diversity, applauded Andreotti's gesture and believes that the slogan is "appropriate for the times we are facing right now."
"I do agree the more inclusive thing would have been 'all lives matter,'" said Guerrier, "but when you look at the statistics that say African American young men ages 14-19 are 15 to 16 times more likely to be shot by a police officer, then the slogan is appropriate because of what we are going through right now."
Guerrier added that the slogan is not inherently disrespectful. "I absolutely do not believe that saying 'black lives matter' equals disrespect or anti-police," he said. "Those two are so far different."
At the same time, he emphasized that residents clamoring for "all lives matter" are also right but are "looking at it through a different lens."
"I commend [Andreotti for posting the sign], but I give him even more credit that he takes it down for the betterment of his community," Guerrier said. "He takes it down, not saying, 'I'm wrong,' but because this has caused an uproar and that's not what [he] intended."
As for the "black lives matter" versus "all lives matter" debate, some felt the latter was insulting and actually misses the point entirely.
"Proclaiming that 'all lives matter' in the face of black people being murdered at the hands of the state is a further act of violence," wrote one commenter on Facebook. "It is an erasure of the specific situation people are facing, a demand to be centered in someone else's pain. It is not an act of peace or a relevant or even important point. Obviously all lives matter. That does not need to be said."
Andreotti himself also took issue with the insistence on "all lives matter."
"I got a call from one of the veterans and he said, 'What about all lives?' Andreotti relayed. "I said, 'Just a minute now. I have spent 16 years [as veterans agent] and I know all about all lives, and I take care of all lives. I've done 595 [veterans'] funerals, a handful of blacks and the rest white. I don't ask what color they are in that casket.'"
Andreotti also noted how a counselor from the Boston Vet Center, who happens to be black, comes in once a week to counsel Canton veterans with PTSD.
"So it's okay for her to counsel my post-traumatic stress white veterans, but I can't put a sign up saying that black lives matter?" he said. "I can't put those three words up in this town without raising a fuss?"
Short URL: http://www.thecantoncitizen.com/?p=30024
Posted by
Jay Turner
on Jul 2 2015. Filed under
Citizen Classics
,
News
,
Police & Fire
. Both comments and pings are currently closed.