Self-portrait time capsules invite grads to reminisce
By
Jay Turner
The following story appeared in the Citizen's annual Salute to the Fine Arts, a special section included with the June 4 edition.
When the members of the Canton High School Class of 2015 gather tonight in the school cafeteria for their senior banquet — one final get-together before tomorrow's big day — they will be given a unique opportunity to "see themselves as they once did, and reflect on how far they've come and how much they've grown."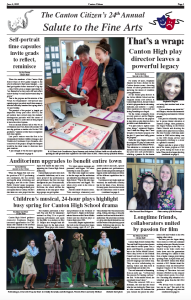 That is the purpose and the mission of the Visual Art Department's self-portrait time capsule project, an artistic stroll down memory lane that officially launched last spring after a 12-year buildup.
The premise of the project is simple yet impactful: Every year since 2001-02, the art teachers have stowed away the students' kindergarten portraits with the intent of unveiling them 12 years later as they prepare to leave the school system.
"Just as ancient artifacts tell us who we as civilizations once were, these self-portraits will one day perform a similar role for the CHS graduates," explains a letter that accompanies each time capsule.
Last year's seniors were the first to be reacquainted with their childhood images, and Visual Arts Coordinator Joyce Stenmon, who conceived of the project, thought the banquet would be the ideal venue to showcase their past creations.
"I just thought it was the most appropriate time," said Stenmon. "It's just a nice piece to have it at the banquet where they are all together and it's that culminating effect."
Stenmon and some of her fellow art teachers hung the portraits on display boards and positioned them at the entrance to the cafeteria so students saw them as they arrived. And the exhibit proved to be an instant hit, not to mention a great "ice breaker" for the evening, recalled Stenmon.
"We didn't know what to expect, but the kids were very genuinely excited to see them," she said. "There was a lot of great conversation about their artwork and it created a lot of camaraderie."
Stenmon said several staff members who attended also raved about the exhibit, and the parents of the graduates were equally effusive in their praise.
"The parents were very complimentary and remarked how [the portraits] really brought back a lot of memories for them and made them think about how their children were 12 years ago," she said. "For parents especially, it's kind of a bittersweet moment — they're happy that their children are graduating, but also sad that they're moving off into the world and things are changing."
Stenmon said she is planning the same type of display for this evening's banquet and is hoping for a similarly strong reaction from the Class of 2015. Those who did attend kindergarten in Canton will likely have two portraits on display: one that they drew in September 2002 and another that they completed in the spring of 2003 to show their growth through their first year of school.
Moving forward, Stenmon said the hope and the intent is that this becomes an annual Canton tradition and helps foster pride in the school system and in the students' school journeys.
Just recently, following the annual K-12 art show, the art teachers packed up the portraits for the CHS Class of 2027, and tucked away in a storage closet are time capsules for the next 11 graduating classes.
Stenmon said she already can't wait to open next year's time capsule. "It's really a great project," she said. "It's an added time commitment and takes work to prepare the exhibit, but it's also a lot of fun and it's definitely worth continuing."
Short URL: http://www.thecantoncitizen.com/?p=29719
Posted by
Jay Turner
on Jun 4 2015. Filed under
Features
. Both comments and pings are currently closed.