School Committee revives start time changes
By
Mike Berger
Two weeks after voting to eliminate the proposed start time changes for the middle and high schools due to budget concerns, the Canton School Committee has found a way to revive the idea, thanks to a compromise plan put forward by new committee Chairman Bob Golledge Jr.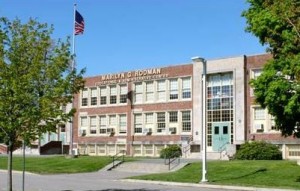 Golledge, who had previously voted not to fund the time changes in order to reduce a nearly $1 million budget gap, said his new plan would further two School Committee priorities that have been studied for several years while also shortening the gap between the committee's proposed budget and the Finance Committee's target figure.
Before the start of the April 9 meeting, the committee's budget plan for the May town meeting was over the FinCom recommendation by nearly $550,000. Under Golledge's plan, that gap would be reduced to less than $300,000 ($297,750).
This would be accomplished by purchasing fewer school buses and hiring fewer additional bus drivers; reducing the number of proposed new hires from 18.2 full-time equivalent teaching positions to 12.8 FTE positions; and increasing the school bus user fees from $200 to $250.
Golledge said at the end of the meeting that he felt it was a good compromise for "two big issues we have been grappling with for two years." He said ideally the committee would like to solve the class size problem totally; however, it is willing to "chip away at the problem" while allowing for the implementation of the start time changes.
Under the new plan, CHS would start 40 minutes later next year while the middle school would start five minutes later. The goal of the time changes is to improve academic performance by giving adolescents more time to sleep.
Golledge's compromise plan was seconded by newly elected member Kristin Mirliani and then unanimously approved by members Reuki Schutt, John Bonnanzio, and Mike Loughran.
The vote was then instantly relayed via Twitter to the FinCom so that it could restore the money to the capital plan for the school buses and update the town meeting warrant booklet to reflect the actions of the committee.
Committee members said they understood that the goal of the FinCom is to maintain the town's AAA bond rating by having sufficient cash reserves, but they feel the current budget is attainable using a combination of state aid, a modest transfer from free cash, and further tweeks and revisions to the school budget.
See this week's Canton Citizen for a complete recap of the April 9 School Committee meeting. Click here to order your subscription today.
Short URL: http://www.thecantoncitizen.com/?p=29141

Posted by
Mike Berger
on Apr 17 2015. Filed under
News
,
Schools
. Both comments and pings are currently closed.