Gallery Salons brings new 'suites' concept to Canton
By
Canton Citizen
Gallery Salons is bringing a new concept in beauty salon entrepreneurship to the Canton area that enables hairstylists, nail technicians, skin care specialists, massage therapists, and other beauty professionals to open their own small salons with little overhead.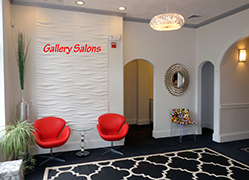 In 2010, Gallery Salons brought the concept of "salon suites" to the Boston area with the opening of its first location in Norwood. Five years later, the company is prepared to open its second area location with the launch of Gallery Salons at the Village Shoppes in Canton.
The grand opening weekend will be April 24-26, when all visitors will receive free makeover consultations and discounts on beauty services. Attendees can also enter a drawing for a free complete makeover, including free hair color and cut, makeup, nails, massage and more.
"Gallery salons" or "salon suites," which have proven popular in other areas of the country, are a collection of smaller salons under one roof that are separately designed, owned and operated by the suite owners. Gallery Salons will be opening 20 such suites in the Canton location. These suites are leased to some of the more popular beauty professionals in the Boston area.
"Tenants who are attracted to opening their own salon suites are usually the better stylists and other beauty professionals from the top salons in the city," said Gallery Salons owner Laurie Palepu. "They are ready to break out into their own salon, with their own image, but are looking for a relatively low-overhead way to do it."
Gallery Salons makes opening a salon easy for first-time entrepreneurs by providing the more expensive elements of opening a salon business, such as the plumbing, tenant finish, salon equipment, etc. The salons are sized for one or two operators, freeing salon owners from having to manage employees. Additionally, a lobby, washrooms, coffee bar, break room, and washers and dryers are shared between the salon tenants, further lowering the up-front costs that a salon owner usually incurs.
"We take care of many of the expensive areas of opening a salon, while the salon owners take care of designing their space and serving their clients," said Palepu.
Tenants at Gallery Salons work on a rental basis, so any profits from service or product sales go to the stylists. "The rent is comparable to what many stylists pay for a chair rental at a regular salon, except they get to have their own salon for that same price," said Palepu. "If a stylist with a good book of business is on commission, he or she can increase income by as much as 50 percent."
The benefit to customers is that they can access some of the best beauty practitioners in the industry in a private, upscale environment. In most cases, there will only be one customer and one beauty professional in each salon suite, which means more attention and privacy for each customer.
Gallery Salons has two salon suite concept salons that have been open for over 15 years in the Chicago area, and is now expanding into Boston, looking for additional sites in Natick, Newton, Foxboro, and other areas. "Our Chicago salons have proven successful with both beauty professionals and customers, so we expect it to catch on quickly in the Boston area as well," said Palepu.
For more information, visit www.gallerysalons.com.
Short URL: http://www.thecantoncitizen.com/?p=29025

Posted by
Canton Citizen
on Apr 3 2015. Filed under
Business
. Both comments and pings are currently closed.