Selectmen races headline eventful 2015 ballot
By
Jay Turner
Editor's note: School officials, at the suggestion of the Board of Selectmen, have withdrawn its proposed debt-exclusion override from the April 7 town ballot. The measure will instead be introduced at the May town meeting and, if approved, will be put before voters in a subsequent special election.
After yawning their way through the last six annual town elections — including three that were entirely uncontested — the voters of Canton will finally have a real event on their hands when they head to the polls on Tuesday, April 7.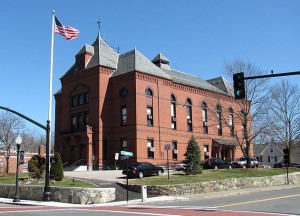 With 16 candidates returning papers by the February 17 nomination deadline, the field is now officially set for 2015 and includes two contested races — both for Board of Selectmen — as well as a ballot question proposing an override to fund an addition at the Hansen Elementary School.
In the selectmen's races, incumbent Sal Salvatori's decision not to seek reelection brought a flood of interested candidates into the fold, setting up a five-way battle for the two available seats.
Candidates include one incumbent, Selectman Avril Elkort, as well as four highly motivated challengers: John Bonnanzio, Kevin Feeney, Gene Manning, and Mark Porter.
In addition, Kristin Mirliani, a former Planning Board member and current president of the Canton Alliance for Public Education, is running unopposed for the three-year School Committee seat that's being vacated by current chairman Cindy Thomas. Another candidate had pulled nomination papers for the seat but did not return them by Tuesday's deadline.
The remaining 10 candidates are all running unopposed as well, although three of them — Janet Walrod, Adam Brothers, and Bernard Mendillo — are newcomers. Walrod and Brothers are running to fill vacancies on the Housing Authority created by the recent deaths of Bill McDaid and Martin Dorian, while Mendillo is seeking his first term as a library trustee.
Other candidates for office include incumbents George Jenkins (Planning Board), Tracy Kenney (Town Clerk), Rocco Digirolamo (Board of Assessors), Richard Levrault (Board of Health), John McSweeney (Housing Authority), Joan Schottenfeld (Library Trustees), and Joyce Wiseman (Library Trustees).
Voters will also be asked to decide on a debt-exclusion override that would cover the cost of an eight-room addition at the Hansen School, currently pegged at around $4.1 million.
School Business Manager Barry Nectow has estimated that the override — which would also require a two-thirds approval at the May town meeting — would cost the average Canton taxpayer $26 per year for the next 20 years, although that figure may be reduced as other previous overrides are paid off.
As for the aforementioned selectman's races, intrigue is sure to be high with a candidate pool that is as deep and diverse as any in recent memory.
Elkort, as a nine-term incumbent, would bring experience as well as stability to the post — two qualities that she believes are critical as the board braces for major personnel changes in the years ahead, including the retirement of the town administrator and a few others in high level positions.
"We need to just get our act together and make sure this town doesn't suffer through these changes," she said.
A former Finance Committee chairman who has been active at the state level with groups such as the Mass. Municipal Association, Elkort said the town has been governed efficiently and effectively in recent years.
"We have a AAA [bond] rating. We have the best police and fire for miles around," she said. "We have lots of things to be very proud of in Canton, and we need to make sure that we keep it this way."
Bonnanzio, a longtime School Committee member who was just reelected in 2014, said he is running for a chance to "change and improve Canton's governance" and believes his experience in running the school system would make him ideally suited for the BOS.
"To run [the Canton Public Schools] cost-effectively while always trying to improve, especially in the classroom, my fellow committee members and I have long-fostered excellence not just in our policies, contracts and budgets, but most profoundly in our culture," he said.
Bonnanzio said his message to the voter is simple: "If you're looking for a new selectman with a clear record of accomplishment, who is also uniquely qualified, independent, creative, and all-too-happy to listen to the people he serves, then I'd be thrilled and humbled to be your next new selectman."
Feeney also has a lengthy track record of public service in Canton, including current stints with the town's Zoning Board of Appeals and Commission on Disability. He believes the present issues facing the town require a "new voice on the BOS that will collaborate with other elected and appointed officials and provide candid, transparent, and responsive leadership for the community."
"My two decades of public service on various boards and committees demonstrate that I am an effective communicator and proven consensus builder," said Feeney.
Manning, meanwhile, has his own wealth of experience to draw from, having worked closely with the BOS and various town department heads in his role as chairman of the Economic Development and Capital Planning committees.
Manning, who also serves as president of the Canton Association of Business and Industry (CABI), characterized the upcoming BOS race as "one of the most important in many years."
"During this term the board will choose a new town administrator, oversee the potential redevelopment of Plymouth Rubber, and implement many initiatives critical to the future of Canton," he said.
"If I am fortunate enough to be elected," he added, "I will listen to our residents' concerns and work collaboratively with my fellow board members to ensure that Canton is financially strong, innovative, and that the long-term initiatives we implement are thoughtful, prudent, and will set the stage for a sound future."
Porter is the youngest of the five candidates but already boasts an impressive resume, including six years of service on the Finance Committee and the last three as its chairman. He also runs a successful financial planning and asset management firm and serves as the Scoutmaster of Canton Boy Scout Troop 77.
"As chairman of the Finance Committee, I often saw areas where we could improve as a town," said Porter. "When presented with the opportunity to continue my public service I realized that not only would the BOS give me the opportunity to drive that improvement, but if I was going to continue to ask others to participate in town government, I must step up myself."
More on Porter's candidacy, including his views on issues facing the town, can be found on his campaign website, porterforselectman.com.
Short URL: http://www.thecantoncitizen.com/?p=28561
Posted by
Jay Turner
on Feb 19 2015. Filed under
News
,
Town Election
,
Town Government
. Both comments and pings are currently closed.