Squirt A's work as a team toward remarkable season
By
Guest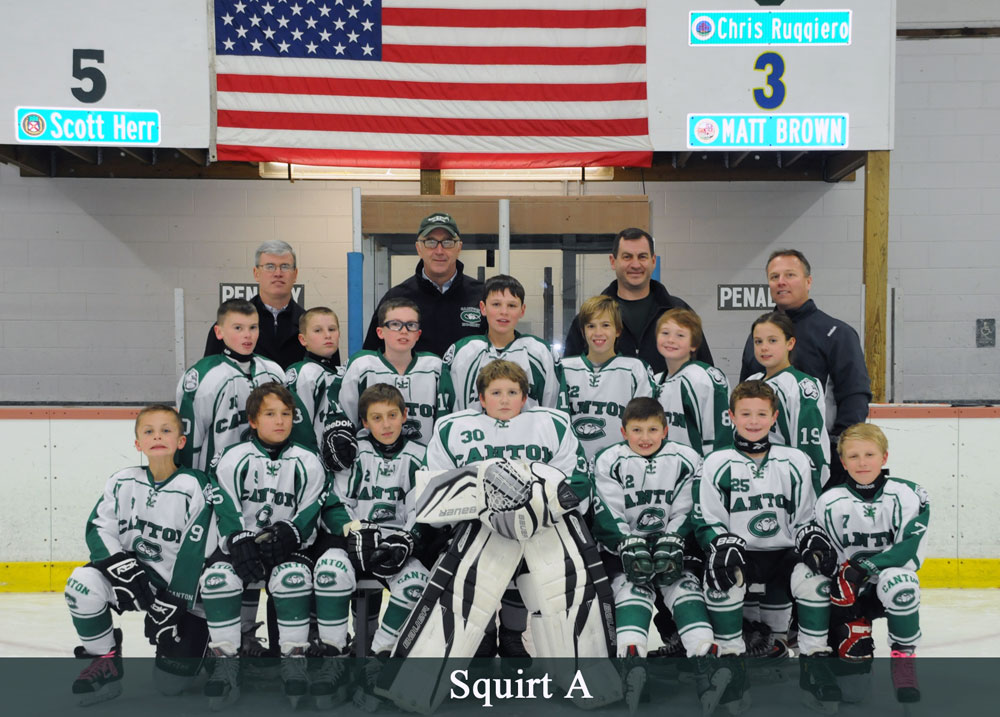 It has been said that, "Coming together is a beginning. Keeping together is progress. Working together is success."   This saying would accurately describe the current Canton Youth Hockey Squirt A team, which is working together and succeeding together as a team. Midway through the 2014-15 season, the results of adopting a "team mentality" are showing in a big way as the Squirt A's are currently boasting an impressive record of 16-1-2 — all attributed to coming together, keeping together, and working together as a team of one.
Coming together in early September, when the temperature outside made it a challenge for the ice inside the rink to stay frozen, the team sat together for the first time at Ulin Rink in Milton. Seven of the players were returning for a second year while an equal number were newcomers. To succeed at their new level of competition, they knew that working as a team would be critical to their success.
Starting in goal, Jayden Haggerty has provided an iron curtain. Through the first 16 games he had only surrendered 18 goals, with the nearest competitor at 30 goals against. With his cool demeanor and his 'never get down' approach to the game, Haggerty is providing a wall which the opponents' shots rarely penetrate.
Helping to keep those shots on net low are the four defensive stars who, together, are shutting down the competition's desire to score. Sean Connolly and Owen Gunning have played as linemates since the start of the season. Connolly possesses the unique ability to move the puck at will past any opponent, which allows him to control the game from the defensive zone. This strength is complimented by Gunning's focused attitude and tenacious pursuit of every play. Together, they consistently shut down the opponent's offensive drives and deliver the puck up ice to make the forwards' jobs that much easier.
Olivia Maffeo (one of only two first-year Squirts to make the team) and Johnny Degnan serve on the other defensive line. Maffeo's smooth skating and her natural instinct and ability to always be where the puck is going is matched by Degnan's endless hustle, physical style, and ability to make himself part of every play. Collectively, these four defensive players sacrifice personal glory to shut down the other team and elevate the game of the forwards up ice, setting the foundation of team-play that has driven the success of the squad.
The team's three centers, Michael Spinelli, Sam Carlino and Andrew Valkanas, provide selfless support and determination, skating both ends of the ice in pursuit of every puck. Spinelli's hard-charging style accompanied by his head down, focused approach to the game allows him to separate opponents from the puck and create turnovers for his linemates. Valkanas' speed and dexterity along with his consistent back-checking assures that no easy path will be provided to any of the other team's drives. These strong efforts are accompanied by Carlino's dominant forechecking and constant net drives, which set the tone for the offensive plays, working each attempt deep into the opponent's zone and setting up his linemates to follow his lead.
These three strong centers are supported by their wings, who complete the team. The rapidly developing AJ Thomas is focused in his right wing position, strengthening the team by playing with hustle, consistently being in his position on the boards during the breakouts, and making quick and accurate passes to his center. On the same offensive line is the speedy Jeff Chaput, who leads the team with four shorthanded goals. More importantly, as one of the fastest skaters on the team, Chaput uses his speed on both offense and defense to create turnovers and generally annoy opponents with every shift that he skates.
Billy DeLello and Tommy Phaneuf make up another offensive line. DeLello's individual hustle has led to memorable back-checking as well impressive offensive zone fore-checking that assists in every small way that adds up to victories for the team. To DeLello's left is the smooth skating, determined Phaneuf, whose focus on dumping the puck into the offensive zone and chasing it down, beating out the opponents, and feeding it to center ice, support his teammates with countless scoring opportunities.
Michael Leonetti and John Thomas make up the wings on yet another potent offensive line. Thomas represents the other first-year Squirt to make the team this year. Showing how and why he earned his way onto the team, Thomas brings the hard-charging attitude and skill that he learned on the football field onto the ice for each game, while his linemate Leonetti continues to demonstrate superior passing ability and quick hand-eye coordination that leads to pucks in the back of the net for either his shots or those who receive his passes.
This special Squirt A team came together in September to begin their journey. They keep together through selfless play and hard work. It is in every player's mind, in each game, that they need to be at their best in supporting their teammates on the ice. Off the ice, this unique group of players supports each other equally, if not more, displaying all that Canton Hockey is and will continue to be in the future. With such exemplary traits and winning ways being demonstrated at such a young age, this Squirt A team is succeeding as a team and is one to watch as their remarkable season continues in 2015.
Short URL: http://www.thecantoncitizen.com/?p=28339

Posted by
Guest
on Jan 22 2015. Filed under
Sports
,
Youth Sports
. Both comments and pings are currently closed.