Passion for kindness fuels GMS teacher, aspiring writer
By
Mary Ann Price
Galvin Middle School special education teacher Rumni Saha has a life philosophy about kindness that she teaches to her students each year. "It's not an option," she tells them. "The only thing that is not an option is kindness. It's not an option. Everything else is an option."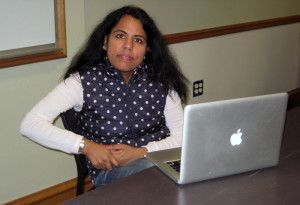 Saha was born and raised in Kolkata (formerly Calcutta), India, the daughter of an engineer and a Montessori teacher. Her first language was Hindi, her mother tongue was Bengali, she was taught in English, and she studied Sanskrit. Saha earned a degree in history from Presidency College and a degree in education from Loreto College, both in Kolkata.
She always wanted to be a special education teacher, and in the 1990s she moved to Boston to study at Boston University. Following graduation, she decided to stay in New England.
"This place grew on me," Saha said. "I did not know anyone. I love it. I always loved it. I love my friends. They've become like family." Earlier this year, she became a U.S. citizen.
Saha's first teaching position was working with a high school cluster at Franciscan Hospital for Children in Brighton, an educational institution she said was similar to the Massachusetts Hospital School in Canton. Franciscan provides care and education for children with special health care needs. In spite of her studies, Saha felt overwhelmed at first by the challenge of meeting her students' needs. "It was shocking," she said.
She met with her supervisor and told her that she didn't feel she was up to the job. Her supervisor advised her to give it a month. Saha agreed. That month turned into months and ultimately seven years. "I loved it," she said. "It was rough and I loved it."
But she needed a break and took a position as an elementary special needs teacher in Milton. A year later she was hired to teach at the Galvin.
"Canton is one of the most amazing school systems," Saha said. "They're very supportive of special education. It's all about the kids, without any reservation."
In 2007, then Assistant Superintendent for Student Services Alan Dewey told Saha that he wanted her to write the curriculum for and teach in a substantially separate classroom, in a setting for students with special needs that may be emotional or behavioral.
Dewey had only one requirement for the new program. "'I want it to be successful,'" Saha said Dewy told her. Saha established a functional academic classroom for a small group of students in grades six, seven and eight that included life skills, occupational therapy, and physical therapy. She then went one step further, opening the Rainbow Café with her students.
Cooking has always been one of Saha's passions. She wanted to open a café to give her students the opportunity to learn how to plan meals, make shopping lists, create a budget, purchase ingredients at local supermarkets, serve customers, and learn the importance of having eye contact with others. The Rainbow Café is open every other Friday to the Galvin faculty.
"It has opened up the school," Saha said. "It's such an amazing relationship." Police Chief Ken Berkowitz and Fire Chief Charles Doody have both stopped by and cooked some of their specialties in the café.
Writing is another one of Saha's passions. In the 1990s, she wrote a blog that combined simple Indian recipes with short musings. Years later, she shared her writing with her friend and local author Bernie Mendillo. "He was wonderful," Saha said. "He was so inspiring. He told me, 'You know what? You can write.'"
A few years ago, Saha met Canton Citizen writer Andrea Close and shared some recipes of dishes that she had prepared at the Rainbow Café. Close was preparing to step down as the Citizen's longtime recipe columnist, and Saha decided to apply for the position.
Saha's column began in 2012 and consists of a recipe and commentary on a variety of topics, including musings on life and family as well as social justice and human rights issues. "I just write as I see things," she said.
Saha has also since become a contributor to the Huffington Post, a popular national news blog, and when one of her colleagues recently suggested that she compile her columns, Saha took her advice. Her book, Blue Sky for All: A Book of Cooking & Compassion, has been published by AuthorHouse.com, a self-publishing service. The title of her book expresses Saha's strong belief in kindness.
"The world that we live in is a fascinating place; it is up to us to seek and find the beauty and kindness of the people who live in it," she wrote. "We can all leave behind a lasting legacy of love and peace. By pushing aside the clouds that blind us, we can see the one and only one blue sky that we are all part of. Let's believe that kindness is not an option; let's be part of the Blue Revolution."
Blue Sky for All is available on amazon.com. To read Saha on the Huffington Post, visit huffingtonpost.com/rumni-saha.
Short URL: http://www.thecantoncitizen.com/?p=28116

Posted by
Mary Ann Price
on Dec 20 2014. Filed under
Features
. Both comments and pings are currently closed.