Holiday Gift Guide: From My Heart to Yours
By
Rumni Saha
As the holidays quickly approach and stress slowly creeps in, let's take refuge in the timeless words of Francis of Assisi: "For it is in giving that we receive." And although these deep words were meant for much more than material exchanges, let's remember that giving — in all its forms — has its gifts.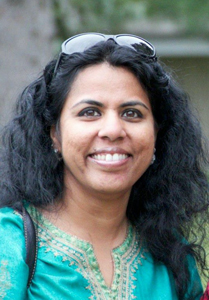 And although we have managed to strip the holidays of its true meaning by making it a commercial give and take, let's pause for a minute, take a deep breath, and at least try to give gifts that make us happy.
Seinfeld's episode on "re-gifting" and "de-gifting" a highly undesirable gift — the label maker — may be hilarious, but it is not funny when this happens to us! So here are some simple ideas for a season of giving. Remember to spend a little time planning ahead; if you walk around the store aimlessly, you are more likely to be frustrated, spend more time and money, and often buy something that has the potential of being re-gifted. (Now, if only I could remember these simple words of wisdom and apply them to my own life!)
Let's start with the more practical, hard-to-buy people on our list. A good friend of mine comes to mind. DJ is one of those people who never wants anything, but I must confess that I truly enjoy shopping for him because while it is so challenging, in the end it is also the most fulfilling, knowing that I nailed it (and that he is secretly pleased)! Recently, I broke his pretty wife's code of "absolutely no gifts" and made him a basket that included an umbrella (because it is functional), a hefty bag of unshelled peanuts (that he loves), homemade granola bars (because he is such a health buff), and a decadent coffee cake (because even a health nut needs some sweet nuttiness). But the icing on the cake was the complete DVD collection of P.G. Wodehouse stories. My friend and I shared a mutual love for P.G. Wodehouse growing up, and reviving a lovely part of his childhood and adding it to the basket was a gesture that I put in a little extra thought — or at least that was the hope.
Another Christmas, when I gave him a gigantic box of pomegranates — festive and succulent yet practical — his face lit up and he could not argue. He also enjoyed the Elegant Eggs Benedict Basket that I once sent him from Wolferman's, which included everything that he needed to whip up a scrumptious breakfast: Signature English muffins, Canadian bacon, Hollandaise sauce, and sinful rolls. Being a family guy, he was thrilled to get his boys involved and enjoyed the process and the product on a lovely Christmas morning! Yet another Christmas, I was thrilled to give him a sports toaster that would stamp the Patriots logo on his daily morning toast. What better way to start the day for the biggest football fan?
Some other ideas for the practical people (and the impractical teenagers) in our lives are as follows:
PayPal gift cards … socks and pajamas … gloves … shovels … car scrapers … iPhone chargers … speakers (Bluetooth cube speakers are recommended by my Tech Geek) … car wash certificates
Play/concert/sports event tickets — tickets to see the New England Revolution are very affordable and provide a complete family experience.
Subscriptions to magazines based on their interest — sports, current events, cooking, etc. Santa is getting my boys subscriptions to World Soccer and Wrestling USA magazines, and mom is hoping for a subscription to Food Network magazine, plus a bigger house to store them in — all right, I need to start thinking about St. Francis again!
Baskets remain my all-time favorite gifts. Depending on your budget, here are some ideas to include in your baskets of frivolous things. (Trust me, we all need a little frivolity during the holidays — it is good for the soul):
Timeshare options: Who wouldn't like to get away for a few days and not have to cook and clean? But not everyone has the means to plan an expensive Caribbean vacation; so take advantage of the Outdoor Traveler Booth at Bass Pro Shops in Foxboro; you will be pleasantly surprised. The romantic in me loves the idea of a quaint bed & breakfast tucked somewhere far away.
Teeth-whitening services (or a kit depending on your budget and the amount of complaints you have endured from your loved ones) are always fabulous.
Laser hair removal, though expensive, has become very popular, especially among young adults. Look for deals and ask for coupons — you and the recipient will both be happier in the end. (Frankly, who wouldn't be happier without nicks and bumps?) Contact my beautiful friend Indu Khosla for amazing holiday deals at www.bellezzalaserspa.com. Her spa is a bit of a hike from Canton, but don't let that dissuade you. When it comes to your body, wouldn't you rather have an experience that is reliable, reasonable, and rewarding? (Don't forget to tell Indu that Rumni sent you for an extra sweet deal!)
Housecleaning certificates are always a blessing, especially if you have company around the holidays. Who likes to scrub bathrooms, but who doesn't like a clean bathroom? Leave it to the professionals — for at least once a year! It's great for sanitation as well as sanity! If someone you love would rather clean their homes by themselves, a wonderful company comes to mind. Healthy Home Company puts out personal care and household products as well as supplements that are 100 percent cruelty free, toxic free, and made in the USA. For more information, contact my dear friend Chelsea Depot at www.healthyhomecompany.com/cdepot18.
Gift certificates to yoga classes will always make you breathe easy.
A day (or an hour) at the spa, a certificate for a haircut and color, or a pedicure/manicure are always welcome. They are also great for those who do not ordinarily indulge themselves.
I happen to love pretty stationary. A classy diary for the gentleman or girly writing material for the lady is always a nice addition. I personally love pens (just saying in case someone is feeling extra generous)!
Overnight babysitting is a much welcome gift, especially for those who do not have a strong family support system close by.
Horseback riding lessons in our neck of the woods are fabulous and therapeutic.
A pretty floral crock-pot or a stylish stainless steel one (for around $20) filled with homemade soup is always much appreciated. (Check out the December Kitchen Musings column for easy crock-pot recipes).
For those who have everything but would love to leave behind a priceless gift for their loved ones, may I suggest getting in touch with Bernard Mendillo, a close friend and longtime Canton resident? Bernie, an award-winning writer, "ghostwrites memoirs and novels for people who have a story to tell but can't seem to get it down on paper." Bernie is kind, patient, honest, and has a gift of listening as well as writing. If this seems enticing, feel free to contact Bernie for a once-in-a-lifetime gift that will be passed down to posterity at www.mendillo.net, or call him at 781-929-7264.
Amidst the stress and strain that come with the holidays, let's not forget its true meaning. Let's remember to be kind to one another and help out those who need our help. It wouldn't hurt to do something nice for our elderly neighbors or those who are less fortunate. Every little bit helps — whether it is a Toy for Tots or an extra buck in the Salvation Army bucket. In this time of joy and peace let's remember a young girl's message written in the worst of times: "No one has ever become poor by giving."  –Anne Frank
Happy holidays friends!
Short URL: http://www.thecantoncitizen.com/?p=27732

Posted by
Rumni Saha
on Dec 3 2014. Filed under
Featured Content
,
Opinion
,
Ruminations
. Both comments and pings are currently closed.