Shine a little light this holiday season
By
Guest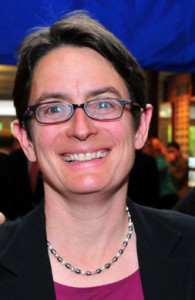 The following reflection, written by Rabbi Navah Lee Levine of Temple Beth Abraham, appears in the Canton Citizen's 2014 Holiday Guide, which was included in the November 26 issue.
One of the many pleasurable Hanukkah moments comes right after lighting the Hanukkah candles, as we do each night for eight nights. I have always loved watching the flames flicker as all join together to sing various Hanukkah songs.
Among my favorites is the Israeli children's song "Banu Choshech Legaresh." It translates roughly as follows:
We come to drive out the darkness
In our hands are light and fire
Each individual is a small light
But together our light is mighty.
Flee, darkness and night
Flee away from the light!
As a child, I loved this song, nourished by the sense of strength and camaraderie conveyed in both melody and words. As an adult, its meaning for me has deepened, and I find in this simple children's song an important message of encouragement to adults that our good actions matter.
For as we know, there is much darkness in our world. One need only turn on the nightly news or read the newspaper and the human ills and suffering swamp us with their magnitude. War and its atrocities, murder, poverty, illiteracy, domestic violence, hate and prejudice, pollution and global warming, the extinction of species, the loss of vast tracts of vital and irreplaceable rainforests, and the contamination of our global water supply — what could we possibly do in the face of problems so much bigger than we are? We are called upon to respond, but how?
For children, the solutions are pretty simple. Children know that we should share our food with those who are hungry and provide shelter to the homeless. Children know that we should clean up what we have polluted and that killing is bad. Children know that we should save the whales and elephants.
As adults, we know that making things right is hugely difficult, and we feel overwhelmed by the scope and complexity of these problems. And too often, we become immobilized. The weight of the world's problems is crushing, the scope so far beyond our ability to solve. The darkness is simply too great — what difference could our personal actions make?
It's at this point of despair that we would do well to act like children. For children believe that we can make a difference. Children believe in individual candles. Our children understand that we are called upon to bring in the light, plain and simple.
In this holiday season, this time when the world is dark, holidays of many faiths include the motif of light. As we celebrate these holidays, we might remind ourselves to not despair at the state of the world, but rather to engage in doing something toward repairing it. For together we just might make this world a better place. In the words of one special Hanukkah song, "Each individual is a small light, but together our light is mighty."
Short URL: http://www.thecantoncitizen.com/?p=27683

Posted by
Guest
on Nov 26 2014. Filed under
Featured Content
. Both comments and pings are currently closed.